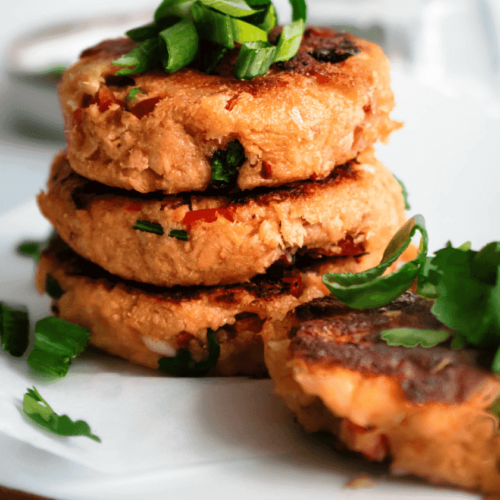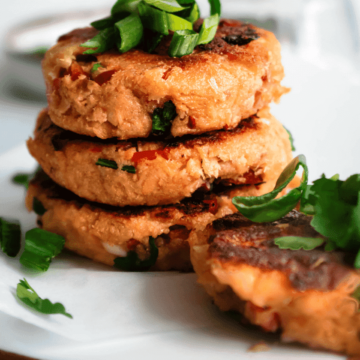 Salmon Patties
There's always
canned salmon
in my pantry for a quick and healthy meal. Salmon protects your heart and promotes beautiful skin and hair. The bones in
canned salmon
are soft and mash-able so leave them in to add calcium but I remove most of the skin. Any toxins in fish are stored in the skin.
Ingredients
Instructions
Place drained salmon in a bowl and mash with a fork.

Mix with onion, red pepper, parsley, egg, and crumbs.

Shape gently into four patties.

Heat oil in a pan over medium heat and cook patties for about 5 minutes until browned and cooked through, turning once.
Notes
Key Ingredients and Easy Swaps
One of the best parts about this dish is that you probably already have most of the ingredients at home. The key ingredients you will need for this dish include:
Salmon: Canned salmon is the easiest to use for this recipe, but cooked flaked salmon works great as well. If cooking fresh salmon at home, this Pan Seared Salmon works great. You can also swap in canned tuna.
Red bell pepper: Finely chopped peppers add a nice crunch and a touch of sweetness that brightens up the dish. Green peppers work as well if you don't have red peppers. If you aren't a fan of peppers, swap in some diced celery here or use half celery and half bell peppers.
Cilantro: This fresh herb adds a ton of fragrance and flavor to the dish. If you don't have cilantro or aren't the biggest fan, parsley or dill works well too.
Panko breadcrumbs: I opt for whole wheat, but you can use whichever kind you like. Try to get the plain breadcrumbs rather than the pre-seasoned, otherwise, it could alter the flavor profile of the dish. Another tasty option is to swap in cornmeal for the breadcrumbs or even crushed saltine crackers.
Eggs: These act as our binders, holding everything together so our patties don't fall apart!
Greek yogurt: In addition to adding healthy probiotics and protein, this ingredient makes the patties extra moist. You could swap in mayonnaise.
Worcestershire sauce: This adds a ton of savory umami flavors to the dish. If you don't have this at home, you can sub it out for soy sauce.
Optional additions: Depending on your preferences, you could add a teaspoon of Dijon mustard, chopped celery, minced onion, fresh dill, lemon juice, or red pepper flakes or hot sauce for some heat.
What to Serve with Salmon Patties
If you're wondering what to serve with this salmon patty recipe, I've got you covered! Here are some of my favorite side dishes to pair with this recipe:
Baked Parsnip Fries
Roasted Vegetables
Wild Rice Salad with Acorn Squash
Garlic Sauteed Spinach
Healthy Kale Caesar Salad
Serving and Substitution Tips
These are some of my favorite serving styles and substitutions for this dish:
If you're using canned salmon, make sure to get the kind without skin and bones. Picking out tiny bones can be a tedious task, so it's best to save yourself time from the start.
If you decide to use baked salmon for this recipe, make sure it hasn't already been marinated or heavily seasoned. Keep it simple with salt and pepper, because you will get all the flavor you need from the other ingredients in the dish.
Tartar sauce works great as a dipping sauce for this dish, but you can also make your own dipping sauce with Greek yogurt, mayonnaise, and the fresh herbs of your choice. These are also delicious with some homemade Tzatziki or Green Goddess dressing.
You can use dried herbs in place of fresh and garlic powder in place of fresh garlic.
If you don't have Greek yogurt at home, you can sub this ingredient out for mayonnaise.
Make the patties slightly larger and turn this into a delicious salmon burger.
How to Store This Dish
Leftovers of these delicious patties can easily be stored in one of two ways:
In the fridge in an airtight bag or container for up to 3-4 days.
In the freezer in an airtight bag or container for up to 1 month.
Flavor Ideas for Salmon Patties
If you're looking to switch it up, here are some fun and tasty ideas to try out:
Add drained grated zucchini for extra nutrients
Add Old Bay seasoning
Use fresh dill instead of fresh cilantro
Add cayenne powder or minced chili peppers for an extra kick
Add freshly grated parmesan cheese
Add Dijon mustard for a punch of flavor and acidity
Salmon cakes with crispy golden brown edges stacked on a plate with yogurt and green onions.
All About Using Canned Salmon
There are two main types of canned salmon. One comes with the skin and bones of the salmon and one comes without the skin and bones.
If you buy canned salmon with the skin and bones, you have two options. First, you can eat the skin and bones. The salmon is cooked under pressure until the bones and kinds of really soft and it is all edible. It's also packed with nutrients. If you use this type of salmon, I recommend running a knife over it to make sure there are no large pieces of bone or skin. You can also pulse it a few times in a food processor. The other option is to carefully pick through the salmon and remove the skin and bones.
If you buy the type without skin and bones (my preference), then just use it like you would use canned tuna.