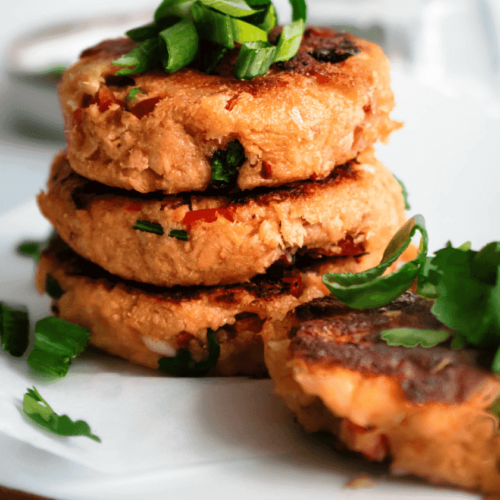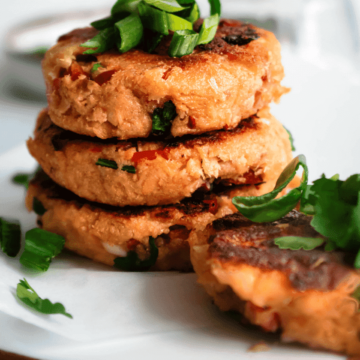 Salmon Patties
How to make simple but classic SALMON cakes with diced peppers, onion, and celery!
Ingredients
1/2

pound

fresh salmon or drained canned salmon without skin or bones

2 cans

Good olive oil

Kosher salt and freshly ground black pepper

1

tablespoon

Garlic powder

1

tablespoon

Dill (dried or fresh)

4

tablespoons

unsalted butter

3/4

cup

small-diced red onion

or scallions

1 1/2

cups

small-diced celery

3 stalks

1/2

cup

small-diced red bell pepper

1/2

cup

small-diced yellow bell pepper

1/4

cup

minced fresh flat-leaf parsley

1/2

teaspoon

Worcestershire sauce

1 1/2

teaspoons

crab boil seasoning

Old Bay

1/4

cup

stale bread crumbs

or panko

1 1/2

cup

Leftover mashed potatoes or instant potatoes.

1/2

cup

good mayonnaise

optional

2

extra-large eggs

lightly beaten
Instructions
Preheat the oven to 350 degrees F.

Place the

salmon

on a

sheet pan

, skin side down.

Brush

with

olive oil

and sprinkle with salt and pepper. Roast for 15 to 20 minutes, until just cooked. Remove from the oven and cover tightly with

aluminum foil

. Allow to rest for 10 minutes and refrigerate until cold.

Meanwhile, place 2 tablespoons of the butter, 2 tablespoons olive oil, the onion, celery, red and yellow bell peppers, parsley, capers, hot sauce, Worcestershire sauce, crab boil seasoning, 1/2 teaspoon salt, and 1/2 teaspoon pepper in a large saute pan over medium-low heat and cook until the vegetables are soft, approximately 15 to 20 minutes. Cool to room temperature

Break the bread slices in pieces and process the bread in a

food processor

fitted with a steel blade. You should have about 1 cup of bread crumbs. Place the bread crumbs on a

sheet pan

and toast in the oven for 5 minutes until lightly browned, tossing occasionally.

Flake the chilled salmon into a large bowl. Add the bread crumbs, mayonnaise, mustard, and eggs. Add the vegetable mixture and mix well. If the consistency is not dry enough, your patties might fall apart. Add more bread crumbs to keep the mixture relatively dry. Cover and chill in the refrigerator for 30 minutes. Shape into 10 (2 1/2 to 3-ounce) cakes.
Notes
We were able to fix our patties that fell apart by adding more bread crumbs and mixing in a food processor.  
This recipe works in an air fryer or convection oven as well.  Just spray the outside with some olive oil and turn over occasionally when baking.