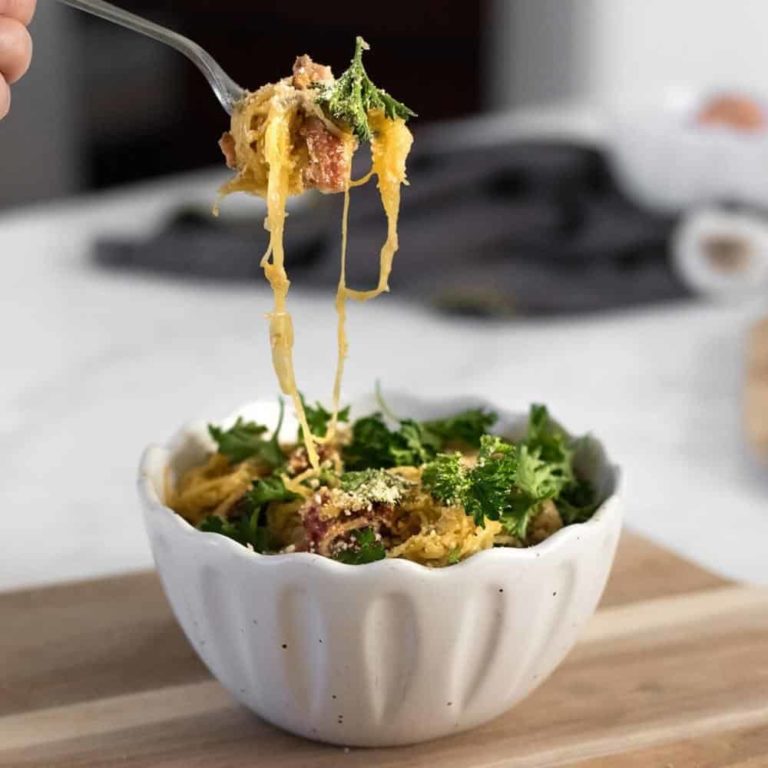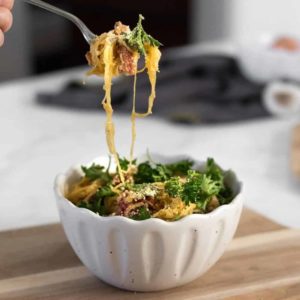 Spaghetti Squash Carbonara
You won't believe how tasty this keto recipe is. It has spaghetti squash, pork, heavy cream, eggs, cheese, and much more. This keto recipe has all of the delicious ingredients you would find in a pasta carbonara dish, but with spaghetti squash instead. Spaghetti squash makes the perfect alternative to pasta, and it's so easy to make. This fantastic keto carbonara has a rich taste, but yet it's nice and light. It's comfort food at it's finest.
Ingredients
Instructions
Cut spaghetti squash in half lengthwise and place on a

baking sheet

, cut-side down.

Bake at 350 degrees for about 30 minutes.

Meanwhile, whisk 4 eggs yolks, 2 whole eggs and cheese in a bowl until combined, then add freshly ground pepper.

Cook chopped bacon and 2 tablespoons of oil until slightly just before crispy.

Discard the oil from the pan and add about 1 tablespoon of

olive oil

.

Scrape out the innards of the spaghetti squash into a pan. Turn off the heat at this point and add your egg and cheese mixture to the pan, stirring lightly for a minute.

Add the heavy cream and salt and pepper to taste. You won't need too much salt, as the bacon adds a fair amount of salt.

Add the bacon to the pan and toss.

Add chile flakes, some more

grated parmesan

, as well as freshly ground pepper and parsley and serve!
Notes