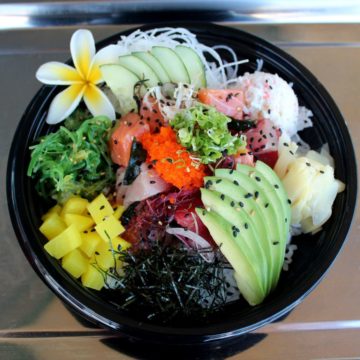 Hawaiian Poke
This is a standard raw tuna (poke) salad served in most Hawaiian homes. Although unconventional, it is sure to please the more adventurous seafood lovers. Be sure to use fresh tuna for the very best flavor, although fresh frozen tuna will produce acceptable results. 2 h 15 m In a medium size non-reactive bowl, combine Ahi,
soy sauce
, green onions,
sesame oil
,
sesame seeds
,
chili
oil, and macadamia nuts; mix well. Refrigerate at least 2 hours before serving.
Ingredients
1

teaspoon

dried hijiki

or dried seaweed cut into slivers

12

ounces

wide eye Ahi Tuna, Frozen,

cut into 1/2-inch cubes, 340g

3

ounces

sweet onion

such as Maui or Vidalia, cut into 1/4-inch dice, 85g

1

scallion

thinly sliced

1

teaspoon

white or black sesame seeds

or a mix, about 3g

4

teaspoons

soy sauce

more or less to taste, 20ml

2

teaspoons

toasted sesame oil

more or less to taste, 10ml

1

teaspoon

honey

more or less to taste, 5ml

1

teaspoon

Chile Oil or Sarachi

to taste (optional)

Sushi Steamed rice

if eating as a meal

1

ounce or more

Tobiko

Squid Ink infused small fish eggs - similar to caviar

1

Avocado

Sliced

for garnish or salad

1

Mango

Sliced

for garnish or salad

1

bunch

fried

wanton wrappers - garnish

1

tbsn

fried

garlic or scallions (from an Asian market)

1

bunch

edible flowers
Instructions
1. Place wakame and hijiki in separate small bowls. Cover with boiling water and let rest until rehydrated and tender, about 5 minutes. Drain and press with paper towels. Roughly chop wakame. Add wakame and hijiki to a large bowl.2. Add tuna, onion, scallion, sesame seeds, soy sauce, sesame oil, honey, and optional crushed red pepper to bowl. Season with a small pinch of kosher salt and gently fold to combine. Taste and adjust with more soy sauce, sesame oil, honey, or crushed red pepper as desired. Let sit 5 minutes at room temperature, then serve on its own or on top of steamed rice.
Notes
Optional Ingredients:
White Rice Brown Rice Organic Mixed Greens ​Fresh Salmon Ahi Tuna Hamachi Snow Crab Salad Shrimp Spicy Tuna Tofu ​Onion Cucumber Avocado Corn Edamame Mango Organic  Tofu Scallion Jalapeno Masago Seaweed Salad Ginger/Wasabi Unagi Sauce Wasabi Mayo Spicy Mayo Sriracha Mixed Greens Haiga Rice Sunomono GF Marinated Bean Sprouts Edamame Guacamole GF Ginger Carrots Seaweed Salad Miso Kale Citrus Beets GF Furikake Edamame Pickled Ginger Furikake Edamame Sunomono GF Ginger Carrots GF Citrus Beets GF Pickled Ginger TORTILLA CHIPS ALBACORE SCALLOP OCTOPUS CORN JALAPENO CILANTRO KALE CUCUMBER SWEET ONION GREEN ONION PINEAPPLE EDAMAME SESAME OIL PONZU SPICY MAYO SWEET CHILI SRIRACHA WASABI SHOYU SHOYU CUCUMBER SALAD IMITATION CRAB SEAWEED SALAD AVOCADO GINGER WASABI MASAGO CRISPY ONION CRISPY GARLIC SESAME SEEDS FURIKAKE Tobiko (black is best but red is good too) Papaya