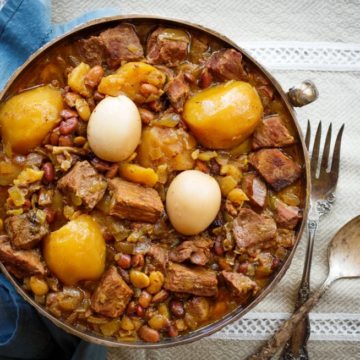 Sephardi Cholent
Cholent is a traditional Jewish stew. It is usually simmered overnight for 12 hours or more, and eaten for lunch on Shabbat (the Sabbath). Cholent was developed over the centuries to conform with Jewish laws that prohibit cooking on the Sabbath. The pot is brought to a boil on Friday before the Sabbath begins, and kept on a blech or hotplate, or left in a slow oven or electric slow cooker, until the following day. Cholent originated in ancient Judea, possibly as far back as the Second Temple period, and over the centuries various Jewish diaspora communities created their own variations of the dish. There are many variations of the dish, which is standard in both the Ashkenazi and Sephardi kitchens. The basic ingredients of cholent are meat, potatoes, beans and barley. Sephardi-style hamin often uses rice or wheat kernels and
chickpeas
instead of beans and barley, and chicken instead of beef. A traditional Sephardi addition is whole eggs in the shell (güevos haminados), which turn brown overnight. Slow overnight cooking allows the flavors of the various ingredients to permeate and produces the characteristic taste of cholent.
Ingredients
2

onions

one chopped, one whole

15

cloves

pealed garlic

1/4

cup

Oil for frying

2 1/2

lbs

beef shoulder

6

large

potatoes pealed

1

large

sweet potato

3

large

carrots

1

cup

chickpeas

1

cup

kidney beans

1

cup

barley

2

Tbsp

tomato puree

1

cup

Coca Cola

Salt

Pepper

Tumeric

Paprika

Chicken Soup Powder

better than bouillon

Water to cover ingredients

2

cups

rice

4

whole eggs

washed
Instructions
In a large slow cooker,

Dutch Oven

or pot (the larger the better!), add some oil, then chopped onions and cook for a couple of minutes then add garlic.

Bring to a boil and add the eggs in the shell.

Add 4 cups water to the rice in a heavy duty

zip lock bag

and tie. Submerge the bag of rice in the pot and cook for about 25 minutes. Remove the rice and reserve.

Lower the temperature of the stew to a simmer and cover if using on a stove-top.

If using a slow cooker, cook on low heat for 16 hours. Check occasionally as it's cooking; add additional water and stir a bit if it's looking too dry. Most cookers will auto-switch to warm when the cooking is complete. If yours doesn't, set it to warm until ready to serve.

It will look a bit medieval when it's done cooking! Don't worry, just dig in and you'll see that it's perfectly cooked below the surface. Peel the eggs before serving the cholent.

To cook this recipe in the oven, layer the ingredients in a large heavy 7-8 quart

Dutch oven

. Make sure you have enough liquid to just cover all ingredients. Cover with lid and cook cholent at 200 degrees F for 12-16 hours.