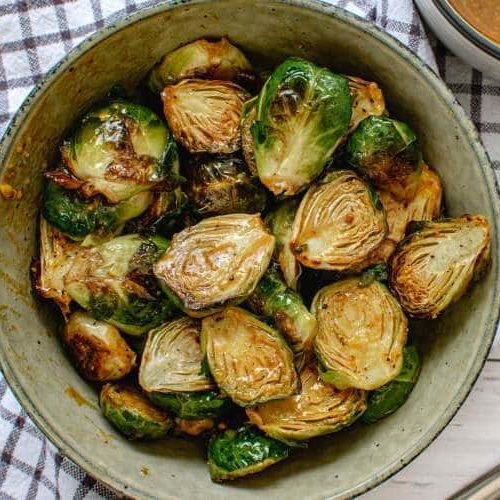 Honey Mustard Brussels Sprouts
How to roast Brussels sprouts so they are brown and crispy?
One of the most common reasons that people don't enjoy Brussels sprouts is that they aren't preparing them correctly. No one wants soggy, mushy, or bland Brussels sprouts. To bring out the most flavor, Brussels sprouts need to get brown and caramelized. The easiest way to accomplish this is by roasting, frying, or cooking them in a hot skillet. Of those three methods, roasting them is by far the easiest and also requires the least amount of oil.
To make sure roasted Brussels sprouts come out caramelized and crisp, make sure to follow these three important steps: Do not overcrowd the pan: In order to brown and roast, vegetables need space on the baking sheet. As Brussels sprouts (or any veggie) cooks, they release moisture. If the Brussels sprouts are piled on top of each other on a baking sheet, this moisture will cause the Brussels sprouts to steam. That's not what we want. By giving the sprouts some space on the baking sheet and placing them in a single layer, it ensures that the sprouts roast and brown instead of steam.
Preheat the baking sheet: One trick of getting nicely browned sprouts and veggies is preheating the baking sheet. By placing the sprouts on a hot baking sheet, you can mimic the same searing, browning effects you would get by adding them to a very hot skillet. Simply place the baking sheet in the oven as it preheats. Then very carefully add the sprouts to the hot baking sheet. High heat: Don't get nervous about cranking up the oven, these sprouts will not burn in high heat. The high heat helps the outside of to brown while letting the inside cook and become tender. High heat helps with caramelization and doesn't happen when sprouts are cooked at low temperatures. Recipe Ideas and TipsThere are lots of ways to make this recipe your own and switch up the flavors and ingredients. Here are some ideas to customize this recipe:
Add bacon: Everything tastes better with bacon and this recipe is no exception. Add some chopped bacon right on the baking sheet alongside the Brussels sprouts. It will cook up and become crispy while also adding some bacon flavor to the dish. Look for center cut bacon, which tends to be the leanest option.
Try different mustard: Whole grain mustard is a favorite in our house with its deep flavor and texture, however, you can experiment with different types of mustard. Try a Dijon mustard for a more complex flavor, use horseradish mustard for something with spice, consider truffle mustard or hot mustard to change up the flavor profile. Just always choose mustard you would be happy eating.
Swap in maple syrup: For a vegan version of this dish or to simply change the flavor, swap in maple syrup for the honey in this recipe. Another option is to try different flavored honey options. This is so good with hot honey if you like things spicy.
Add crunch: To add some texture and crunch, consider topping the finished recipe with some chopped walnuts or pecans. It's also delicious with pomegranate arils, toasted breadcrumbs, or some thinly sliced shallots. Add herbs and spices: In this recipe, the mustard adds spice and flavor to the sprouts. To kick up that flavor even more, add dried herbs or spices like thyme, oregano, basil, paprika, or cumin.
Garlic: Another pairing that works great is garlic. Add some chopped minced garlic to the sauce or use garlic powder if there isn't fresh garlic on hand.
Ingredients
Instructions
Preheat the oven to 450 degrees. Place a

baking sheet

in the oven as it preheats. Cut the sprouts in half and toss with

olive oil

, salt, and pepper. Carefully remove the pan from the hot oven. Spray with cooking spray and place sprouts cut side down on the

baking sheet

.

Roast for 18-24 minutes, shaking the tray halfway through cooking time. They are ready when the sprouts are tender and crispy on the outside.