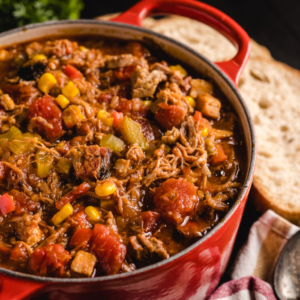 Brunswick Stew
Brunswick stew is a tomato-based stew generally involving local beans, vegetables, and originally small game meat such as squirrel or rabbit, though today often chicken. Native to this county is Brunswick Stew, a flavorous brew first concocted by a group of hunters. One of the party, who had been detailed to stay in the camp as a cook, lazily threw all the supplies into a pot, it is said, and cooked the mixture over a slow fire. When his companions returned, cold and exhausted, they found the concoction a most appetizing dish. The time-honored directions for making this luscious meal are: boil about 9 pounds of game—squirrels are preferred.
Ingredients
1

onion

2

stalks

bunch of celery

3-4

carrots

peeled and chopped

2

potato

chopped

4

cloves

of garlic

chopped

1

bay leaf
A few sprigs of thyme

1/2

lbs

Venison

(or pork shoulder) cut into stew sized pieces

1

lbs

Rabbit meat

(or chicken thighs) cut into stew sized pieces

1/2

lbs

Bear meat

(or brisket) cut into stew sized pieces

Salt

Pepper

A few tablespoons of flour

4

cups

beef broth

separated

3 14.5

oz

cans diced tomatoes

with liquid

1 ½

cups

frozen corn

1

cup

ketchup

1

teaspoon

Worcestershire sauce
Instructions
Start by getting a fire going, nice and hot.

Roughly chop 1 onion, 1 bunch of celery, and some garlic along with 3-4 peeled carrots. Set aside.

Cut your venison and rabbit in to bite sized pieces and set aside in a bowl. Remove fat from the bear meat. Cut the rest of the meat into bite sized pieces and add to the bowl. Keep some pieces of the bear fat for later.

Once your fire is hot add a pot overtop and heat it until it is ripping hot.

Add bear fat and let render out for about 15 minutes.

While the fat is rendering, add salt, pepper, and flour to your bowl of meat and mix to combine.

Remove remaining pieces of bear fat from pot, and add your meat. Cook until browned and a fond has formed, and then remove meat.

Add your onion and cook until translucent. Once cooked, add your chopped celery and garlic and cook for about 1 minute.

Add 2 cups of beef broth and scrape up any fond off the bottom. Add meat back to the pot along with 2 cups of crushed tomatoes, 2 more cups of beef broth, and a

bay leaf

. Mix to combine and cook for 30 minutes.

After 30 minutes, add your carrots and potatoes. Cook for 30 more minutes.

Serve and enjoy!