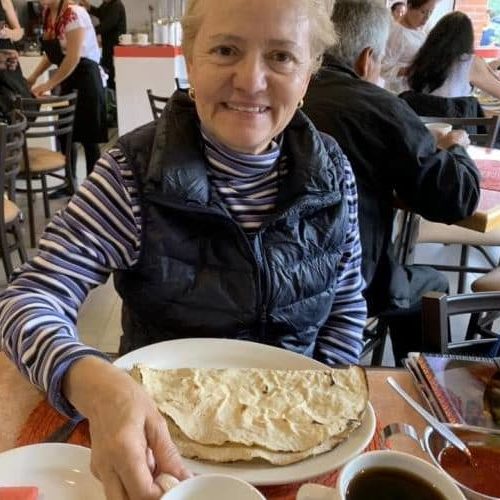 Tlayuda
A Tlayuda, is a handmade dish in traditional Oaxacan cuisine, consisting of a large, thin, crunchy, partially fried or toasted tortilla covered with a spread of refried beans, asiento (unrefined pork lard), lettuce or cabbage, avocado, meat (usually shredded chicken, beef tenderloin or pork), Oaxaca cheese, and salsa.A popular antojito, the tlayuda is native to the state of Oaxaca. It is regarded as iconic in the local cuisine, and can be found particularly around Oaxaca City. Tlayudas are also available in the center-south region of Mexico, such as Mexico City, Puebla, or Guadalajara.The dinner plate-sized tortilla is either seared (usually on a comal) or charred on a grill. Refried beans are then applied, along with lard and vegetables, to serve as a base for the main ingredients. The rules for topping a tlayuda are not strict, and restaurants and street vendors often offer a variety of toppings, including "'tasajo" (cuts of meat typical of Central Valley of Oaxaca), chorizo, and cecina enchilada (thin strips of chili powder-encrusted pork). They may be prepared open-faced or folded in half.
Ingredients
3

tablespoons

neutral oil or lard

8

ounces

fresh Mexican chorizo sausage casing removed

crumbled

4

large

chiles - poblano or jalapeno

stemmed, seeded, and thinly sliced

1

bunch scallions

cut into 1-inch pieces

4 8-

inch

flour tortillas or Corn if you can find them

1

cup

black bean puree

4

ounces

whole-milk mozzarella or Oaxacan cheese

shredded (1 cup)
Garnish
Shredded lettuce

Pickled red onions

Sliced or diced tomato

Chile Verde

Salsa Roja
Instructions
Heat the oven to 450°F with a rack in the middle position. In a 12-inch cast-iron or large comal over medium-high, heat 1 tablespoon of oil until barely smoking. Add the chorizo and cook, stirring occasionally and breaking the meat into small bits, until well browned, about 5 minutes. Using a slotted spoon, transfer the chorizo to a paper towel lined plate; set aside. Add the jalapeños and scallions to the pan, then cook, stirring occasionally, until the vegetables are lightly charred, 3 to 5 minutes. Transfer to the plate with the chorizo; set aside.

Pour the remaining 2 tablespoons oil onto a rimmed

baking sheet

and

brush

to coat the entire surface. Place 2 tortillas on the

baking sheet

to coat the bottoms with oil, then flip them and coat the second sides. Spread ¼ cup of the bean mixture evenly on half of each tortilla, all the way to the edges. Top the beans on each with ¼ of the cheese, then fold the unfilled half over to cover and press gently to seal. Transfer to a plate. Repeat with the remaining tortillas beans and cheese.

Place the filled and folded tortillas in a single layer on the baking sheet or large comal. Bake until the cheese has melted and the bottoms of the tortillas are golden brown, about 10 minutes. Using a metal spatula, transfer the tlayudas to a wire rack and cool for 5 minutes. Carefully open each and fill as desired with the chorizo-jalapeño-scallion mixture, lettuce, pickled onions tomato and hot sauce. Re-fold then cut into wedges. Serve warm.
Video
Notes
Don't be afraid to use a bbq to roast your ingredients. Feel free to substitute any kind of meat for the Chorizo but don't use Spanish Chorizo. Open face Tlayuda can be baked and cut like a pizza