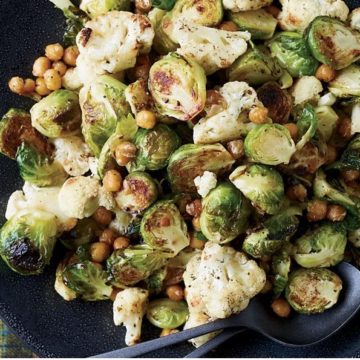 Jerk-Spiced Brussels Sprouts, Cauliflower and Chickpeas
This is so flavorful and so hearty and so ridiculously easy -- especially if you have a good jerk seasoning blend in your pantry (I boosted mine up with extra thyme and
coriander
and allspice). Also, there's a crazy amount of nutritional value.
Ingredients
Instructions
Add oil and

chickpeas

to pan or griddle. Careful as they may pop like popcorn (have a lid for safety) ready and cook until browned and slightly crispy, about 5 minutes. Add the Brussels sprouts and cauliflower, season with salt and cook, stirring, until lightly browned, about 5 minutes. Transfer the pan or griddle contents to the oven and roast the vegetables for about 15 minutes, until tender. Sprinkle with 1 teaspoon of jerk spice mixture and serve right away.

Preheat oven to 425 degrees F. Heat a

roasting pan

or griddle to high heat. Mix 1 part store bought jerk spice with 1 part combination of thyme,

coriander

and allspice.