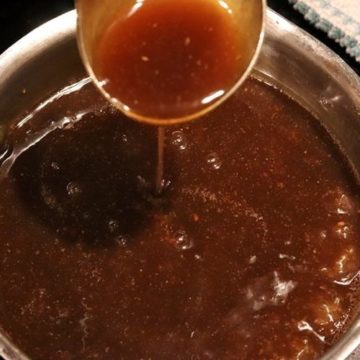 Easy Beef Gravy
Make a delicious cream gravy that is fail-proof and delicious with Better Than Bouillon. This recipe could be made in five different flavors with the variety of Better Than Bouillon bases seen below. I used Roasted Beef Base, but it would be equally delicious with Roasted Garlic, Chili, or Seasoned Vegetable Base. You could also use Roasted Chicken Base, which would also work well with ground chicken or turkey meatballs.Better Than Bouillon is my secret weapon to making dishes taste flavorful and delicious without the extra effort. It's a little shortcut that makes everything taste like they were made completely from scratch. All you need is about a teaspoon of Better Than Bouillon base and 8 oz of water to make your food taste incredible. A little goes a long way and these little jars will last a long time! Better Than Bouillon is a paste concentrate that is equivalent to a bouillon cube or broth. It can be used to make a basic stock, broth or as a marinade to add flavor to recipe. I prefer the base to cubes or broth because the base lasts longer in the fridge than broths and they dissolve well, unlike cubes.This gravy recipe can be used for our Bison-Pork meatballs served over rice or roast beef with gravy, steak tips and gravy, and more. You can even use frozen meatballs with gravy and it will turn out SO delicious!
Ingredients
1/2

cup

ground bison

beef, finely chopped cooked or uncooked steak

salt to taste

4

TBSP

flour

1

tsp

Better Than Bouillon Roasted Beef Base

16

oz

water

1/4

cup

heavy cream
Instructions
Cook whatever type of beef you have and add salt if unseasoned. If the meat is already cooked as in steak, chop it finely and add it to a pan with water. Cover and simmer to tendorize it (about 10-15 minutes)

Mix together the Better Than

Bouillon

base and 8 oz of water. Add 1/2 the flour and BTB mix and stir well. Add the mix to the

skillet

and stir constantly. Then, add in the heavy cream and stir. Bring to a slight boil, stirring continuously. Adjust the thickness by adding water or make it thicker by using a little cold water mixed with flour.
Notes
We love this with Meatballs and plain white rice accompanied with our favorite Kale Salad.