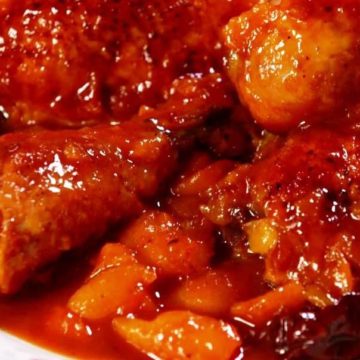 Chicken with Tamarind, Apricots and Chipotle Sauce
This Passover dish from Patricia Jinich, who grew up in Mexico, one of 40,000 to 50,000 Jews, European and Mexican influences ran through Passover and holiday cooking: chicken soups with matzo might feature jalapeños, while meat stews were paired with salsa. Ms. Jinich learned this recipe from Flora Cohen, a woman of Syrian background who taught her and other Jewish brides in Mexico City how to cook. Here, a combination of dried apricots and apricot preserves give this chicken a savory sweetness, while chipotles in adobo add a little heat.
Ingredients
Instructions
Thoroughly rinse the chicken with cold water and pat dry. Sprinkle with 1/2 teaspoon each salt and pepper.

In a

deep skillet

, heat the oil over medium heat until it is hot but not smoking. Add the chicken in one layer and reduce the heat to medium-low. Slowly brown the chicken, turning occasionally, for 1 hour.

Pour 4 cups water over the chicken, raise the heat to medium-high, and bring to a simmer. Add the apricots, tamarind concentrate, sugar, apricot preserves, chipotles, and, 1/2 teaspoon salt, stirring until incorporated. Keep the liquid at a medium simmer over medium heat until the sauce is thick enough to coat the back of a wooden spoon, 35 to 40 minutes.

Taste the sauce for seasoning and heat, adding more salt or chipotles if desired. Transfer the chicken to a platter and drizzle with the sauce.
Notes
If it's not for Passover, you can substitute the salt for soy sauce and experiment with the flavor as you build this dish.