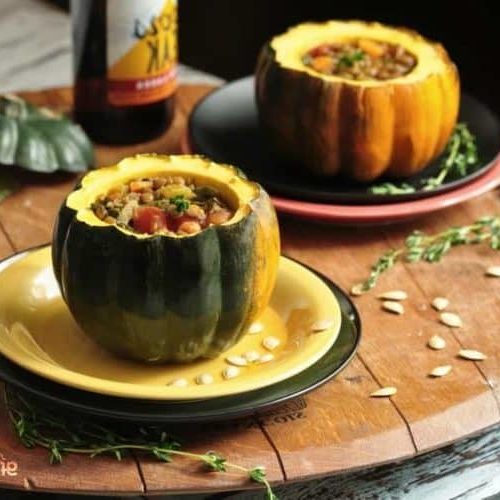 Burmese Pork and Spinach Stuffed Kabocha Squash
This recipe uses the entire Kabocha squash as a basic bowl. Depending on how you make it, it can be spicy or not.. Burmese flavors include sweet and sour, nutty, and spicy foods. I'm one of those terrible carnivores and I strongly believe in the Burmese affliction that there can be illness caused by the failure to eat meat, But you could make this completely vegan using lentils, chickpeas and tomatoes.
Instructions
Preheat the oven to 400°F. Place whole squash in a Microwave oven for 3-4 minutes or until soft enough to cust easily. Cut out the top of the squash and scoop out the seeds.

Season the inside of the squash with salt and pepper. Put the squash upside down in a microwaveable container, add a splash of water, cover with a lid, and nuke for another 4-6 minutes to soften even more.

In the meantime, prepare the filling. Heat the

coconut oil

in a

cast-iron skillet

over medium heat. Add the minced shallots and sauté until they are translucent. Throw in the minced garlic and stir it around until it is fragrant (~30 seconds).

Add the ground pork and cook until it's no longer pink. Season the pork to taste with Yellow curry tamarind paste, tamari (or soy sauce) to taste. Then add chicken broth and stir until it has a uniform consistency without being too thinned out

Add the

bamboo shoots

then the frozen spinach straight from the freezer (Tip: buy the bagged stuff, not the frozen block) and stir everything until the spinach defrosts.

Remove the squash out of the microwave and place it on a foil-lined baking tray. Fill the squash nearly up to the top. (leave about 1/2 inch for coconut cream)

Add coconut cream to the filling and cover with the top of the squash. Place the stuffed squash in the oven for 45 minutes to 1 hour or until the flesh is easily pierced with a knife.
Notes
There are lots of variations for this dish like using pulled pork chucks, using lentils and lamb shoulder or, by making it vegan using pureed butternut squash with curry.