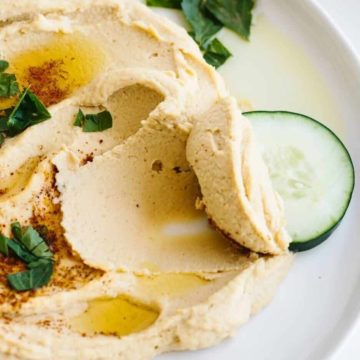 Classic Hummus
This is a fast and easy classic hummus recipe. It's versatile, delicious and can be used as a dip or spread in just about anything. This homemade hummus is the freshest, tastiest hummus you've ever eaten. Once you make it, you'll never go back to store-bought. Its high in fiber and really good for you.
Ingredients
Instructions
Add the hummus to a serving plate and garnish with

olive oil

, paprika and fresh parsley.
Notes
The hummus will last for up to a week in the fridge, if kept in a sealed container. You can also freeze the hummus in sealed containers for future use, then just thaw as needed. It's actually one of the most common foods I meal prep on a regular basis as it's so easy.
Don't forget that you can also make tahini yourself (rather than buying in the store). Double the amount of tahini in toasted sesame seeds (careful not to burn them)
The Vitamix blender I use is the Vitamix Ascent 3500 - and I love it!
1 cup of dried chickpeas = 3 cups of soaked chickpeas = approx 30 ounces canned chickpeas