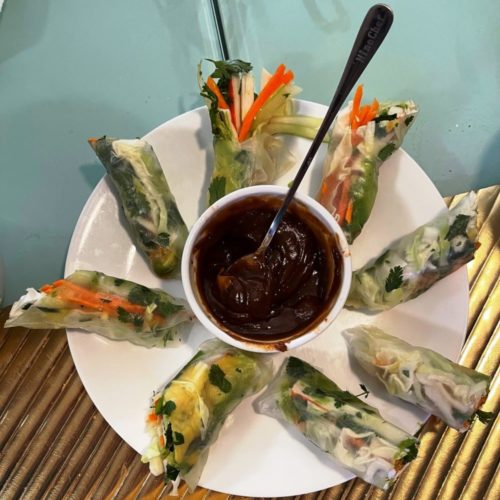 Spring Rolls
Spring rolls or summer rolls are a Vietnamese delicacy known as "gỏi cuốn". Depending on region, salad rolls were made differently. Some vegetarian families make vegetarian spring rolls rather than meat spring rolls. However, the typical ingredients include slivers of cooked pork (most often cha pork sausages), shrimp, sometimes chicken or tofu, fresh herbs like basil or cilantro, lettuce, cucumbers, sometimes fresh garlic, chives, rice vermicelli, all wrapped in moistened rice paper. A typical "gỏi cuốn" may contain boiled pork, boiled rice noodle, cucumber, carrot and herb only. Fresh Vietnamese spring rolls can be made at home or found at Vietnamese restaurants and some grocery stores. They are served at room temperature with dipping sauce. Nước chấm, tương xào, or a
hoisin
peanut sauce are all common dipping sauces. A typical
hoisin
dipping sauce includes
chili
,
hoisin
sauce,
peanut butter
and sugar. A standard "nước mắm pha" (nước chấm) dipping sauce is composed of fish sauce, lime, garlic, sugar, and chilies or simply fish sauce, sugar and
vinegar
.
Ingredients
Rolls:
1

package spring roll rice wrappers

1

package vermicelli rice noodles

optional

1

cup

purple cabbage

shredded- optional

1

cup

Napa cabbage

shredded

1

large carrot

peeled and shredded or sliced into thin strips

1

large English cucumber

peeled and thinly sliced

1

pound

small

cooked shrimp, imitation crab strips, or chicken sliced thin

1

bunch fresh mint leaves

Optional

1

bunch fresh basil leaves

1

bunch fresh cilantro
Instructions
Cook vermicelli noodles in boiling water, for just a few minutes, according to package instructions. Drain and rinse with cold water.

Gather all topping ingredients together, including chopped veggies, herbs, cooked shrimp.

Add about 1 inch of water to a large, deep dish, or pie pan. Place one rice wrapper into the water and let soak for just 10-15 seconds. It should still feel pretty firm as you remove it and lay it on your counter or plate.

(It will soften up as you add the filling ingredients, but If you let it soak for too long it will get too soft and will tear when you roll it up.)

Layer 1-2 slices of each veggie, a few shrimp, a few leaves of each herb and a pinch of noodles on the 1/3 of the spring roll that is closest to you.

Fold the sides of the spring roll in over the ingredients. Then pull the side closest to you up and over the ingredients, sealing everything together tightly, and rolling it up like a burrito.
For the peanut sauce:
Heat the peanut butter in the microwave to soften. Add Hoisin, Saracha (or sweet chili sauce) ingredients and mix until smooth or use a blender for larger quantities.