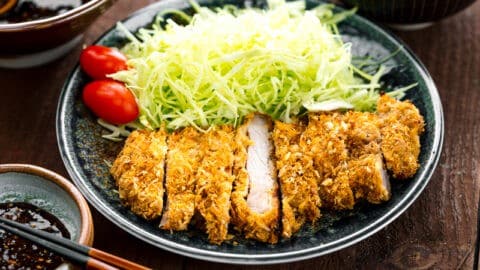 Pork Cutlet - Donkkaseu
Today I'm going to introduce you to the Korean way of making a pork cutlet, called "donkkaseu" in Korean. It's an iteration of the Japanese
tonkatsu
which was the Japanese take on the European schnitzel. It's a hot, savory, breaded pork cutlet, and my version is served on a bed of rice and Hi-Rice sauce, with a side of
kimchi
and a side of cabbage salad. These days donkkaseu is sold everywhere, in all kinds of restaurants, but when I was young it was only served in Western-style restaurants (called Gyoungyang-sik). That kind of food was new and exciting and they sold hamburger steaks, beef cutlets, pork cutlets, omelette rice, and steaks. It was more expensive than Korean restaurants, but it wasn't totally a Western either: every dish was served with
kimchi
and rice, and usually a pickle, too. These days Western food is all over Korea, but in those days eating Western-style food with a
knife
and fork was an exotic thing to do. My friends would say: "Are you ready to use a
knife
and fork today?" We all knew what that meant! Donkkaseu! We thought it was so cool! The Hi-rice sauce I use goes perfectly with donkkaseu but if you can't find it, you can use regular gravy, or even
ketchup
. Using Hi-rice sauce for this is my invention, but it really tastes like the donkkaseu gravy I used to have in those Gyoungyang-sik places all those years ago. The minute I tasted it, I was brought back to my old middle school days and my old friends in the restaurant! Someday I'll make a hi-rice recipe for my website and show you how this gravy is usually used, but in the meantime you can use it to make donkkaseu. The word "donkkaseu" is an odd word, and I never knew what it meant until I started learning English. "Don" is based on the Chinese character for pork, and "kkaseu" is taken from the Japanese "katsu" which is their loanword for "cutlet." The Japanese version of this dish is called "
Tonkatsu
" and donkkaseu is our Koreanization of that. It sounds kind of funny!
Ingredients
For the meat:
4

thin slices

1 pound pork loin or tenderloin (beef, chicken, or turkey)

kosher salt

½

teaspoon

ground black pepper

⅓

cup

all purpose flour

2

cups

ppang-garu

Korean bread crumbs or Japanese panko

3

eggs

beaten with a pinch of kosher salt

Steamed rice

3

cups

corn oil
For gravy:
1

Package

Hi-Rice Powder

100 grams: about ¾ cup

2

tablespoons

butter

2½

cups

water

¼

cup

ketchup
Instructions
Prepare the cutlets:
Use a meat tenderizer or (the back of your kitchen

knife

) to pound and flatten the sliced pork into cutlets about 7 by 5 inches and ¼ to ⅛ inch thick.

Sprinkle one side with salt and ground black pepper.

Coat both sides of the cutlets with flour, dip them in the beaten eggs, and press them into bread crumbs. Refrigerate.
Make gravy:
Heat the butter in a heavy sauce pan over medium high heat. When it's half melted, add the hi-rice powder and stir well with a wooden spoonfor about 2 minutes until well mixed .

Add water and stir well. Add the

ketchup

and mix well. Keep cooking, stirring occasionally for 8 to 10 minutes until it bubbles and thickens.

Remove from the heat.
Fry the pork:
Heat up the corn oil over medium high heat until it reaches 350 degrees Fahrenheit.

Fry the pork until both sides are golden brown, turning them over a few times with tongs. It will take about 12- 13 minutes.

Strain the pork and pat off the excess oil with a kitchen towel.

Cut into strips.
Put it together and serve:
Reheat the gravy.

Put some warm rice on the plate. Ladle hot gravy over top of the rice.

Put the sliced cutlet on top of the rice. Drizzle a bit of gravy over top.

Place some shredded cabbage next to the pork and add cold mayonnaise dressing on top.

Serve hot with

kimchi

or yellow pickled radish.
Video