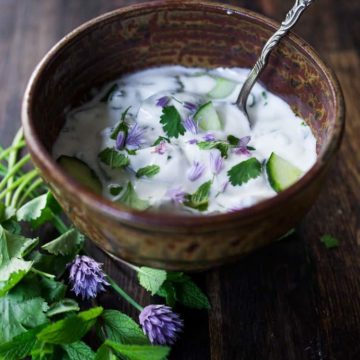 Cucumber Raita
Cucumber raita is a popular savory condiment dip made with cucumber and curd (yogurt). It is simple, refreshing, and cooling to the palate. This cucumber raita recipe comes together in 5 minutes and tastes fabulous when paired with biryani, pulao, or any Indian meal.
Ingredients
1

medium sized cucumber

1

cup

curd/yogurt

1

tsp

roasted cumin seeds powder/jeera powder

1

tsp

chaat masala

optional

1/4

tsp

red chili powder

optional

rock salt/sendha namak or black salt

Red Himalayan Salt is black salt

1/4

cup

chopped cilantro or mint

garnish
Notes
Cucumber: You can make this raita with any fresh cucumber. If you are worried about the seeds, then make it with English cucumber. Prior to chopping or grating, taste the cucumber. If it tastes bitter or sour, then discard it.
Peeling cucumber: I always peel the cucumber skins whether they are thick or thin. It is better to peel them if they are thick. The white cucumbers we get in India, have thick skin and they have to be peeled. If using a thin-skinned cucumber, then keep the peels on. 
Curd: When you make any raita, always use homemade or whole milk curd. The curd or yogurt should not be sour. Unless you are looking for low-fat options, then of course make the raita with low-fat yogurt.
Spices: The usual spices that we add to raita are roasted cumin powder, red chili powder. I also perk up my raita with some chaat masala – but you can skip it. Replace red chili powder with paprika or cayenne pepper. Roasted cumin powder helps in digestion. 
Cumin powder: In the recipe, we use toasted cumin powder which is nothing but ground roasted cumin seeds. You can make a small batch by roasting or toasting ½ cup cumin seeds in a skillet or pan until fragrant. Let them cool and then grind in a spice grinder to a fine texture. Place the finely ground cumin seeds in an air-tight jar. Store in a cool dry place.
Herbs: Coriander leaves (cilantro) and mint leaves are the preferred choice of herbs in raita. You can even sub about ½ to 1 teaspoon dried mint leaves for fresh leaves. Use fresh parsley in place of cilantro.
Spicing: Any raita is subtly and minimally spiced. A raita is never made spicy as it accompanies a spicy biryani, gravy, or kebab. So do use the same proportion of red chili powder as mentioned in the recipe. You can definitely add less, but do not add more. But you can increase the amount of roasted cumin powder and chaat masala a bit.
Scaling: The recipe can be easily doubled or tripled
For vrat or fasting: If you are making cucumber raita for fasting or vrat then add food grade and edible rock salt (sendha namak).