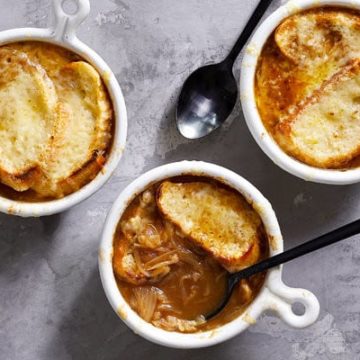 Classic French Onion Soup
Nothing seems more French than onion soup. While it's more common in a restaurant setting, every home chef would be well-served by a solid onion soup recipe in their arsenal. Heaps of onions deeply caramelized to the point of almost burning, red wine, rich stock of roasted bones, a float of stale bread supporting a gratinée of pungent Alpine cheese. The smell alone is capable of waking unknown appetites. Like most wonderful cuisine, it's humble peasant food that transcends when it's made with the care it deserves.
Ingredients
Sauté the Onions to caramelize them before you add them to the soup:
1

tablespoon

Sweet Butter

1

tablespoon

Extra Virgin Olive Oil

8

large Onions cut 1/4"inch thick

1

cup

approx. chopped Shallots
In the Soup Pot:
8

ounces

Sweet Butter not salted

6

ounces

Flour

2

large Leeks cut 1/4"inch thick white part and light green only

¼

cup

Sherry Wine

¼

cup

Port Wine

3

cups

Beef Stock

6

cups

Vegetable or Chicken Stock

Salt and Pepper to taste

1

French Bread

1/2

cup

grated Swiss Cheese

½

cup

grated Parmesan Reggiano
Instructions
Sauté the Onions to caramelize:
In a large fry pan heat oil and butter when hot add the onions and cook at high heat to caramelize, until golden brown. Add the shallots and cook until light golden brown as well. This could take 15 to 20 minutes and reserve on the side.
In the Soup Pot:
Add the butter and when melted add the flour and make a soft roux. Add the caramelized onion and shallots and add the leeks and top with the stocks. Add salt and pepper and cook slowly for 60 to 45 minutes until onion are soft!

In the meantime, cut 9 to 12 slices 1/2"inch thick of the French bread and toasted them in the oven until light golden brown. Cover with cheese and bake another 5 minutes until cheese is brown.

Pour the soup in individual bowls and place 2 or 3 slices of the toasted bread on top.
Video