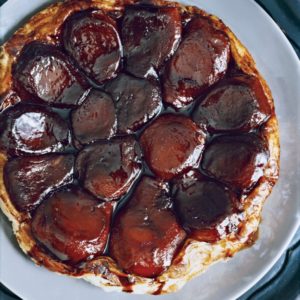 Apple Tarte Tatin
Tarte Tatin is a classic, and delicious, French dessert that's not actually that complicated to make. I'd argue it's even easier than a double crust pie. Store-bought all-butter puff pastry gets you halfway there, and a simple stovetop caramel sauce paired with in season apples (or use pears, pineapple or even banana) make this a rustic "Upside Down" dessert worth keeping in your arsenal.
Ingredients
For the Short crust pastry:
250

grams

of Flour

25

grams

of white sugar.

1

egg yolk

50

ml

of water

125

grams

of Unsalted butter.
For the caramel sauce:
Instructions
Peel and core the the apples with an apple corer. Quarter or slice apples and lemon juice to keep them from turning brown

Using a

food processor

, mix the butter in pulsing mode. Add an egg yoke and 3 tablespoons of water slowly in the processor in automatic mode for about 1 minute or less. Remove and compress on a lightly floured surface. Wrap in plastic wrap and let rest in the

refrigerator

for at least 2 hours.

Add sugar and butter to a

cast iron pan

and heat. Stir constantly until the mixture turns a caramel color. Remove from heat and stir in cinamon and

vanilla

if using. Then add apples arranging from the outside in to cover all the caramel mixture.

Roll out the pastry dough on a lightly floured surface but be sure not to make it too thin. Carefully roll up on a rolling ping and use a little flour to keep it from sticking to itself. Unroll it on top of the apples and trim around the pan. Tuck in the edges under the pan.

Using a pairing

knife

, punch a few holes in the crust so it will bake and not steam inside.

Bake at 400 F for 20 minutes or 375 for 40 minutes or until the crust is golden brown.

Remove from oven and cool for 5-10 minutes. Using a larger plate flip over the pan onto the plate and remove the pan.

Garnish and serve immediately.
Notes
This can be made sugar free using Sukrin sweetener. If you use Sukrin you should add a little Molasses (tablespoon or so).  It won't add a lot of sugar but will help melt the sugars together.  You can also use puff pastry to make it easier to prepare. A lightweight oven safe steel pan can also be used. Care must be used as hot caramel can be dangerous if it spatters and contacts your skin.  Be Careful with molten sugars!