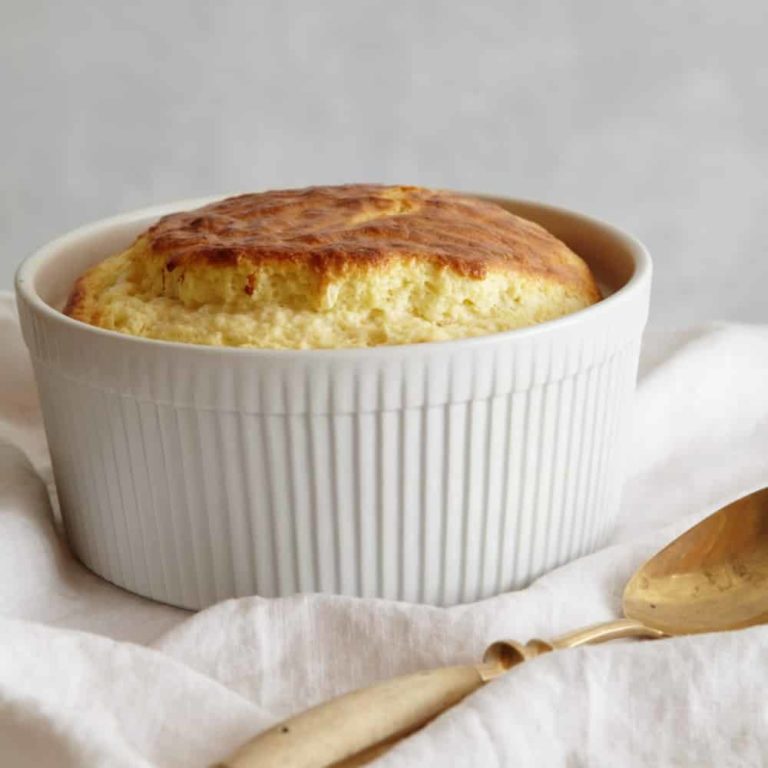 Cheese Soufflé
A French dish that everyone should master is the soufflé—either sweet or savory or both. There are many reasons why a soufflé can fail to rise and the texture to be incorrect, so for a chef to eventually fully understand all the reasons why a soufflé can fail would make them a reckoning force in any kitchen. Someone who can turn out perfect soufflé after soufflé should really be able to master anything else in the kitchen.
Ingredients
1

Stick

Unsalted Butter

6

tablespoons

all-purpose flour

2

cups

cold whole milk

1/2

teaspoon

salt

1/2

teaspoon

freshly ground black pepper

5

extra-large eggs

2 1/3

cups

grated Swiss cheese

preferably Gruyere (about 6 ounces)

3

tablespoons

minced fresh chives
Instructions
Preheat the oven to 400 degrees F.

Melt the butter in a saucepan, then add the flour, and mix it in well with a whisk. Cook for 10 seconds, and add the milk in 1 stroke, and mix it in with a whisk. Keep stirring with the whisk until the mixture thickens and comes to a strong boil, which will take about 2 minutes. It should be thick and smooth. Remove from the heat, and stir in the salt and pepper. Allow about 10 minutes for the white sauce to cool.

Meanwhile, break the eggs into a bowl, and beat well with a fork. Add the eggs, the cheese and the chives to the cooled sauce, and mix well to combine. Pour into the buttered ramekins and cook immediately, or set aside until ready to cook.

Bake for 30 to 40 minutes, or until the soufflé is puffy and well browned on top. Although it will stay inflated for quite awhile, it is best served immediately.