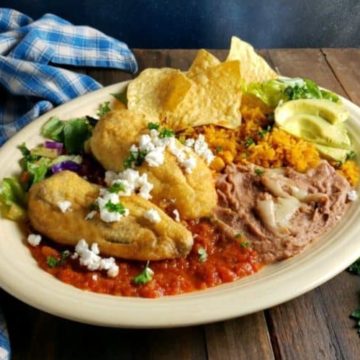 Chile Relleno
Mexican chile Relleno recipe made from roasted poblano peppers stuffed with cheese dipped in a fluffy egg batter and fried until golden brown. Traditionally, is typically stuffed with melted cheese, such as queso Chihuahua or queso Oaxaca or with picadillo meat made of diced pork, raisins and nuts, seasoned with canella; covered in an egg white batter, simply corn masa flour and fried, or without any batter at all. Although it is often served in a tomato sauce, the sauces can vary.
Ingredients
Chile Rellenos
6

large poblano peppers

8

ounces

Oaxacan Quesadilla Cheese

or Monterey Jack cheese

4

cups

oil

for frying

3

large eggs

1/2

cup

all-purpose flour

1/2

teaspoon

kosher salt
Salsa Roja
6

medium tomatoes

quartered

1/2

small onion

halved (yellow or white)

3

cloves

garlic

1

jalapeno

stem and seeds removed (optional)

5

sprigs cilantro

1

teaspoon

coarse kosher salt

plus more to taste

1

teaspoon

avocado or olive oil
Instructions
Chile Rellenos
Roast the peppers: Line a large

baking sheet

with

aluminum foil

and place poblano peppers on top. Set your oven rack directly underneath the broiler and turn the broiler on.

Broil poblanos for 5 minutes, or until the skin is blackened and blistered. Carefully flip them over and broil for another 5 minutes, or until the skin is blackened and blistered.

Remove them from the oven and loosely cover the

baking sheet

with

aluminum foil

or plastic wrap to keep in some of the heat and help them steam. Let them sit for 5 minutes.

Peel the peppers: Peel and rub off as much of the loose skin on the peppers as possible. It doesn't have to be perfect, just as much as you can.

Cut a small slit down the middle of the peppers with a

knife

. (If you don't want the peppers too spicy, you can remove some of the seeds.

Stuff the peppers: Carefully stuff the peppers with the cheese. Some of the peppers will be extra fragile because of the roasting process and may tear - that's okay. Just do the best you can.

Gently close the opening of the peppers and secure it shut with 1-3 toothpicks. Use as many as you need to ensure that the cheese won't ooze out during the frying process. Set aside.

Prepare for frying: Heat the oil frying oil in a large

saucepan

or

deep skillet

over medium-high heat. Line a

baking sheet

with paper towels and set aside. While oil is heating up, prepare the batter.

Make the batter: Separate the egg whites from the yolks into two separate bowls - the whites into a large mixing bowl and the yolks into a small bowl. Using an

electric hand mixer

, beat the egg whites until stiff peaks form.

While continuing to beat the egg whites on low, add in the egg yolks one at a time until all of them are fully mixed in. The batter should be light, fluffy and smooth.

Coat the peppers with batter: Place the flour and salt into a separate shallow bowl or plate. Mix together to combine. Gently roll the stuffed peppers in the flour mixture, then give them a gentle tap to remove any excess. Then dip them in the egg batter and gently place them in the hot frying oil.

Fry the chile Rellenos: Fry the peppers for 3-5 minutes per side, until the batter is golden brown and crispy. Try not to overcrowd the peppers in the pan - I usually fry 2 at a time depending on the pan I'm using.

Transfer the peppers to the lined

baking sheet

to drain off any excess oil.

Serve: Immediately serve chile rellenos on a plate with some salsa, freshly chopped cilantro and some cotija cheese. (Don't forget to remove the toothpicks when you first cut into the peppers! You can try to remove them before serving onto plates, but I find it easier to remove them when you first cut into them.)
Salsa Roja
Add tomatoes, onion, garlic, jalapeno, cilantro and salt to a

blender

. Puree until smooth.

Reduce heat to low and simmer, stirring occasionally for 8 minutes. Remove from heat, taste and season with more salt if desired.
Video
Notes
Buy the largest poblano peppers you can find. That way you can stuff the peppers with a lot of filling and you won't have any leftovers.
Use a different cheese. Feel free to use another type of cheese if that's all you have. Traditionally, chile Relleno is made with Oaxaca cheese, but you could also use mozzarella, cheddar, provolone, or another good melting cheese.
Add a different filling. To make this a more well-rounded one-chile meal, feel free to mix in some other ingredients to the filling. Some good options would be carnitas, shredded chicken, pork, picadillo canned boneless sardines, tuna, or crab meat.
Don't overcrowd the frying pan. I typically fry 2 chile Rellenos at a time even though the pan could fit 3.