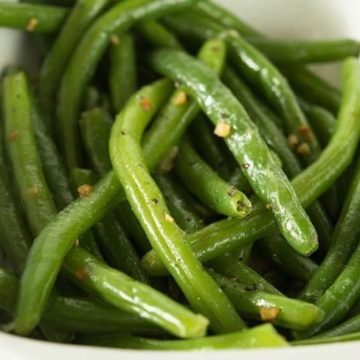 Fool-Proof Green Beans
Only fresh green beans and garlic will do for this easy, healthy, and flavorful side dish. These Butter and Garlic Green Beans are perfectly cooked and tossed with butter and toasted garlic. They're boiled, so you don't have to worry about burning them while they cook. You can make them with pre-trimmed green beans, so no cutting required if you don't want to. And, best of all, if your timing is off and the green beans finish cooking 20 minutes before your main dish, they get tossed in a hot pan with butter right before serving, so they'll heat right back up!
Ingredients
1

pound

green beans trimmed and cut in half

3

cloves

garlic sliced, chopped, or minced

3

tablespoon

butter

Salt and pepper to taste
Instructions
In a medium pot, cover green beans with cold water and bring to a boil. Lower the heat and simmer for 5-10 minutes, until they reach your preferred level of doneness. Drain and set aside.

Melt butter over medium heat in a large skillet. Add the garlic and toast until golden, watching carefully to ensure it doesn't burn.

Add the cooked green beans to the pan, sprinkle with salt and pepper, and toss to coat (and reheat if they've cooled).