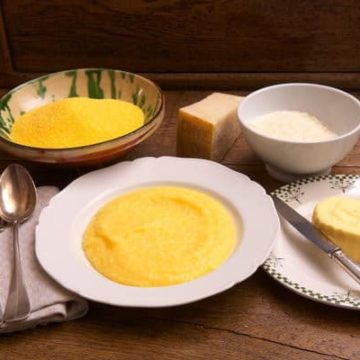 Basic Polenta
Polenta is basically cornmeal mush, and it can be made with any kind of cornmeal, ground coarse, medium or fine. (You don't need bags marked "polenta.") As with most ingredients, though, the better the cornmeal you start with, the better your result in the kitchen. The trick is cooking the polenta for a sufficient amount of time. You must allow the cornmeal to swell and become fully cooked. That way, you emphasize the sweet corn flavor and don't end up with something bitter and
lame
. Yes, it takes a long time. But it's worth it — and you can fry the leftovers tomorrow night in a snap.
Ingredients
4

cups

water

Kosher salt

1

cup

coarse or medium-grind cornmeal

3

tablespoons

butter

1/2

cup

grated Parmesan cheese
Instructions
For firm polenta use 4 cups water; for soft polenta use 5 cups water. Bring water to a boil in a medium-size heavy saucepan over high heat. Add 1 teaspoon salt. Pour cornmeal slowly into the water, stirring with a wire whisk or wooden spoon. Continue stirring as mixture thickens, 2 to 3 minutes.

Turn heat to low. Cook for at least 45 minutes, stirring every 10 minutes or so. If polenta becomes quite thick, thin it with 1/2 cup water, stir well and continue cooking. Add up to 1 cup more water as necessary, to keep polenta soft enough to stir. Put a spoonful on a plate, let it cool, then taste. Grains should be swollen and taste cooked, not raw. Adjust salt and add pepper if you wish.

For firm polenta, lightly butter a baking sheet or shallow dish, approximately 8 1/2 by 11 inches. Carefully pour the polenta into the pan. Using a spatula, spread polenta to a thickness of 3/4 inch. Cool to room temperature to allow the polenta to solidify. Cover and refrigerate for up to 3 days. For soft polenta, add 6 tablespoons butter to the pot and stir well. Serve immediately or transfer to a double boiler set over low heat, cover and keep warm for up to an hour or so. (Or set the saucepan in a pot of barely simmering water.) Stir well before spooning into low soup bowls. Sprinkle with Parmesan, if desired.