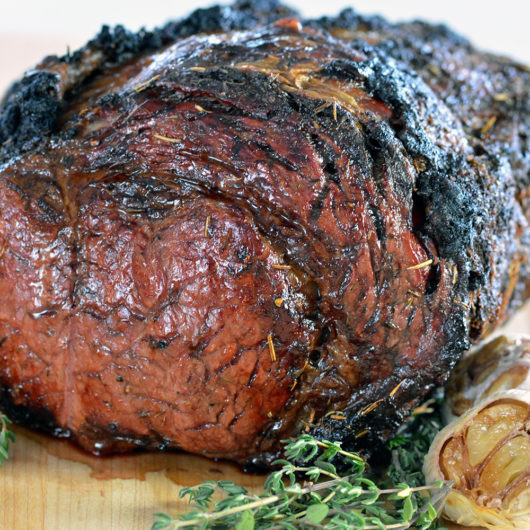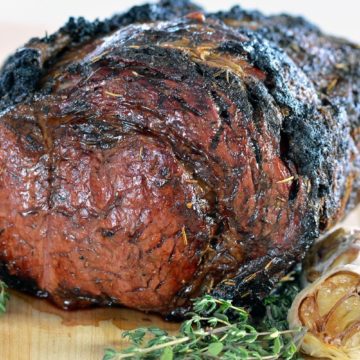 Prime Rib
This prime rib roast recipe used an easy method to "char" and then "cook" the prime rib roast. The very high temp, in the beginning, starts the cooking process, heats the oven to a high enough temperature to slow cook the roast, and provides a nice char on the outside of the roast.
Is there anything more truly beautiful than a perfect prime rib? A deep brown crust crackling with salt and fat, sliced open to reveal a juicy pink center that extends from edge to edge. When you see such a roast in front of you, everything else—the argument you had with your sister over mashed potatoes, the red wine stain on the carpet, the enticingly crisp bowl of roast potatoes, even the plaintive look of the dog staring up with a please sir, can I have a bone? face—disappears as you become lost in a mental vortex of juicy meat, crisp fat, and drippings.
Ingredients
Prime Rib
1 2-6

Bone Prime Rib Roast

Boned and Tied

3

tbsp

olive oil

3-4

clove

garlic

Sliced or Minced
Prime Rib Rub
1

tbsp

Dried Thyme

1

tbsp

Dried Rosemary

1

tbsp

Black Pepper

1

tbsp

Onion Powder

1

tbsp

Garlic Powder

2

tbsp

Kosher Salt
Instructions
Remove the prime rib from the

refrigerator

4 hours before cooking.

minutes before cooking, bone and tie the meat (Optional)

Cut 1/2" slits on the top of the roast and insert minced or sliced garlic.

Rub the outside of the roast with high quality

olive oil

.

Combine the rosemary,

thyme

, kosher salt, black pepper, onion powder and garlic powder and spread evenly over the roast.

Image of uncooked Prime Rib with string

Let rest while the oven pre-heats to 500 degree F (260 degree C).

Insert the

thermometer

into the center of the roast and place in the oven (2nd rack from the bottom).

Calculate your initial cooking time by allowing 5 minutes per pound of meat (a 9 lb roast would cook for 45 minutes while a 6 lb roast would cook for 30).

This will provide a nice crunch on the exterior. The seasoning rub will get charred but that's what creates the deeply savory crust.

After your calculated cooking time is up, turn the oven off but DON'T OPEN THE OVEN DOOR.

After 2 hours the center of your roast will be 135 degrees F, which is medium-rare.

Sliced cooked Melt-in-Your-Mouth Garlic Herb Prime Rib

If you prefer medium just keep it in the oven until it reaches 150 degrees F.

Remove from the oven and let rest for 10 minutes.
Notes
Resting - your roast will increase in temperature the longer it rests. If you plan on resting your rib for 20-25 minutes, to cook other items, only cook your roast to 115 degrees. Your roast will rise in temperature to approx. 135 degrees after a 20 minute rest period.