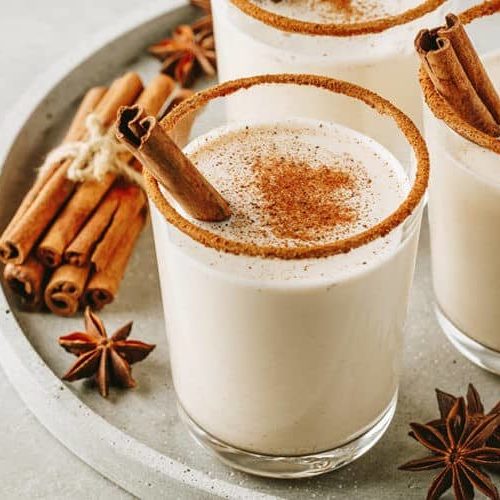 This Boozy Eggnog will make you forget 2020 ever happened
If you're still dumping shots of booze into store-bought eggnog, it's high time you stepped your game up. This homemade nog recipe isn't just strong enough to put hair on your chest, it's strong enough to age for up to a year. I know what you're thinking: letting raw eggs and dairy age for an extended period of time is asking for trouble. But guess what? It turns out that introducing an exorbitant amount of booze to the equation does magical things. The finished product is over 20% alcohol, which is high enough to eradicate any bacteria that might otherwise put you at risk.
Ingredients
Instructions
Separate the yolk from each egg. Save the whites by chilling in the refrigerator in a covered bowl..

Combine the yolks and the sugar in a large bowl and whisk until the mixture is creamy or use a mixer.

Add all remaining ingredients–cream, liquor, and the rest–to the bowl. Once everything has been thoroughly combined, feel free to spice up the eggnog with whatever you see fit. I've personally had good luck with a few drops of vanilla extract and dashes of nutmeg and cinnamon. Chill in the refrigerator overnight in a couple of pitchers.

The next day, in a mixing bowl, use an electric mixer to beat whites until stiff peaks form. Transfer to a large punch bowl.

Place cream in mixing bowl and beat until medium peaks form, then transfer to punch bowl.

Take the nog base from the fridge, shake to mix well, then pour into a punch bowl and gently mix it together with the egg whites and whipped cream.

Serve cups garnished with freshly grated nutmeg, or over ice if that's how you like it.

Store your nog in the fridge for up to 1 week.
Notes
That's it! You're done. If stored properly (that is, in tightly sealed containers at or below 40°F) this nog can be safely and deliciously aged for up to a year. In fact, a little bit of age gives the ingredients time to mingle, completely transforming the flavor.
And seriously, it's worth reiterating just how strong this stuff is. Take it slow, and savor.
In Mexico, this is also known as Rompope, but with less alcohol than this recipe.