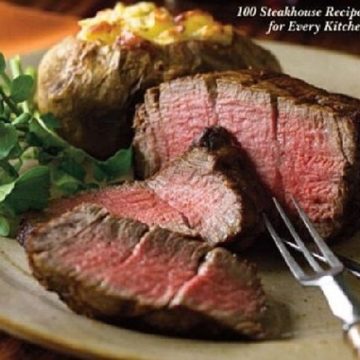 Steak Florentine
These tasty steaks are served on a bed of spinach, which earns them their name. Both round and butt steaks are full of flavor, and they are so well appreciated all across America that we think of them as "American cuts." They are chewier than sirloin or tenderloin but full of great beef flavor. If you can find prime beef, buy it, but choice will do just fine here.
Ingredients
Two

10 ounce

round or butt steaks

each about 1 inch thick

1 1/2

tablespoons

unsalted butter

1

tablespoon

minced shallot

1 small shallot

1

pound

fresh spinach

stemmed

1

tablespoon

minced garlic

Kosher salt and freshly ground black pepper

1

tablespoon

olive oil

2

tablespoons

freshly grated Parmesan cheese
Instructions
Remove the steaks from the

refrigerator

and let them rest at room temperature for 30 to 60 minutes.

Preheat the oven to 400 degrees F.

In a large sauté pan, melt 1 tablespoon of the butter over medium heat and when hot, add the shallots and cook for 1 to 2 minutes or until soft. Add the spinach to the pan and cook for 3 to 4 minutes, stirring, or until the spinach just wilts. Do not let it get too limp. Remove the pan from the heat, cover to keep warm, and set aside.

In a small sauté pan, heat the remaining 1/2 tablespoon butter over medium-low heat and cook the garlic for 2 to 3 minutes or until it begins to brown. Set aside.

Lightly sprinkle the steaks with salt and pepper.

In another large sauté pan, heat the

olive oil

over medium-high heat and when very hot, sear the steaks for about 2 minutes on each side. Transfer the steaks to a

roasting pan

and roast for 3 to 4 minutes or until barely medium-rare.

Remove the steaks from the oven and turn on the broiler.

Drain the liquid from the spinach and spread the spinach in a broiler pan. Set the steaks on top of the spinach and then top each steak with the garlic and butter. Sprinkle a tablespoon of cheese over each steak and broil for 1 to 2 minutes or until the cheese melts and is lightly browned. Let the steak rest for 5 to 10 minutes. Divide between 2 plates.
Video