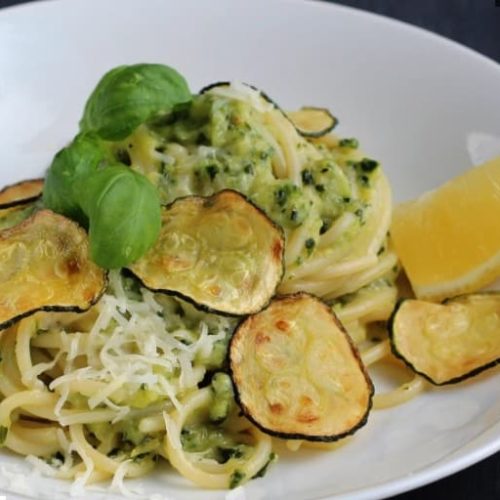 Spaghetti alla Nerano (Spaghetti with Fried Zucchini)
Spaghetti alla Nerano was invented in the fifties by a woman called Maria Grazia in a restaurant bearing her name in Nerano a small town on the Sorrento peninsula. Apparently, the restaurant still exists and is being run by her grandchildren!
Ingredients
Instructions
Place zucchini slices on a plate and let dry for 1 hour.

Heat 1/2 cup oil in a

skillet

over medium heat. Add zucchini slices in batches and deep fry until brown, 10 to 15 minutes per batch. Drain on paper towels and allow to cool. Mash 1/3 of the zucchini.

Place 3 tablespoons

olive oil

and garlic cloves in a large saucepan over low heat. Watch carefully and simmer until garlic cloves are a light golden brown and oil is infused with garlic flavor, 15 to 20 minutes. Stir in mashed zucchini. Add zucchini slices.

Meanwhile, bring a

large pot

of lightly salted water to a boil. Cook spaghetti in the boiling water, stirring occasionally, until tender yet firm to the bite, about 12 minutes. Drain spaghetti, reserving some cooking water.

Add spaghetti and provolone cheese to the saucepan. Toss and add hot pasta water until sauce becomes creamy. Mix in basil, season with salt and pepper, and serve.
Video