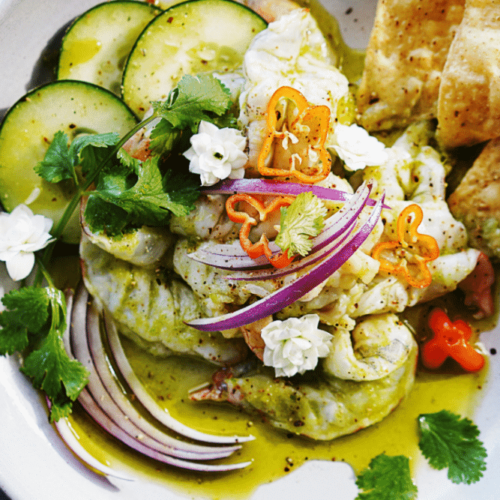 Shrimp Aguachile
If you love ceviche, then Mexico's aguachile is for you. Traditionally made with raw shrimp, lime juice, chilies, cucumber, and onion, it's served immediately while still totally raw, unlike most other ceviche recipes. This recipe is about as close to the Sinaloa classic as you can get, and it's unbelievably delicious given its simplicity.
Ingredients
1

pound

sashimi-grade head-on shrimp shells and heads removed

see note

Sea or kosher salt

2

serrano chilies

stemmed and cut into 1/4-inch pieces

2

tablespoons

water

4

tablespoons

fresh juice from 4 limes

Freshly ground black pepper

1/4

cup

thinly sliced red onion

2

tablespoons

diced seeded cucumber

Tostadas and sliced avocado

for serving
Instructions
irections

Split shrimp in half lengthwise and discard any veins. Transfer to a plate, sprinkle all over with salt, add the lime juice, cover with plastic, and refrigerate at least 1 hour and up to 2 hours.

Meanwhile, in a mortar and pestle, combine chilies with a pinch of salt and pulverize thoroughly, then add water and continue to work until chilies are reduced to tiny bits. Alternatively, blend chilies with water in a blender or with an immersion blender until thoroughly blended. Add lime juice if desired and season with salt and pepper.

In a mixing bowl, toss shrimp with

chili

-lime marinade, onion, and cucumber. Season once more with salt and pepper and serve right away with tostadas and avocado.
Notes
Look for shrimp that are fresh and have never been frozen, and tell the fishmonger you are planning to eat them raw. If you can't find shrimp that are fresh enough, you can substitute gently cooked shrimp (in which case omit the salt-curing step), or another type of seafood such as raw sea scallops or sashimi-grade fish. If you buy head-on shrimp, use the heads for another purpose, such as making seafood broth, or deep-fried as a snack.