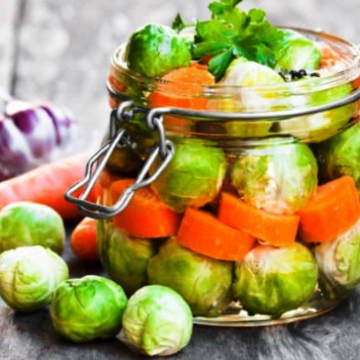 Pickled Brussels Sprouts
Pickled Brussels Sprouts are the best!! They are packed full of GOODNESS!!! They make great appetizers, and great snacks. Serve over a salad, or just eat plain. This pickled stapled will keep on your shelf for about two to four years. As long as the lid stays sealed. The Sprouts will be good. Loaded with many antioxidants, this versatile vegetable will amaze you with all its yummy goodness!!
Ingredients
3

lbs

Brussel Sprouts

1

Chopped Green onion

1

sprig of Dill

1

tablespoon

Mustard Seed

1

tablespoon

Celery Seed

1

tablespoon

Allspice Berries

1

Carrot sliced

Optional: Red Pepper Flakes
Brine:
4.5

Cup

White Distilled Vineger

4

Cups

Water

1

Tablespoon

Kosher Canning Salt

2

Tablespoons

Sugar.
Instructions
Clean and remove outer leaves that are blemished on the sprouts

Prepare clean pint jars

Cut Brussels in halves or forths
In each jar:
Add, A few Chopped Green onion, A sprig of Dill, A sprinkle of

Mustard

Seed, A Tap of Celery Seed, and a couple of Allspice Berries. Lastly a Couple of slices of Carrot.

Optional: Red Pepper Flakes

Heat up water bath to a rolling boil.
Brine:
Four and a Half Cup White Distilled Vineger

Four Cups Water

1 Tablespoon Kosher Canning Salt

2 Tablespoons Sugar.

Heat

Brine

, pour over Brussels in Jar, Leave about an inch headspace.

Cook in Hot water bath, 15 minutes for pint jars

and 25 minutes for quart jars.

Remove jars and place on a towel on a surface.

Allow to sit undisturbed for about two weeks in a cool dry place.

BEST SERVED COLD.