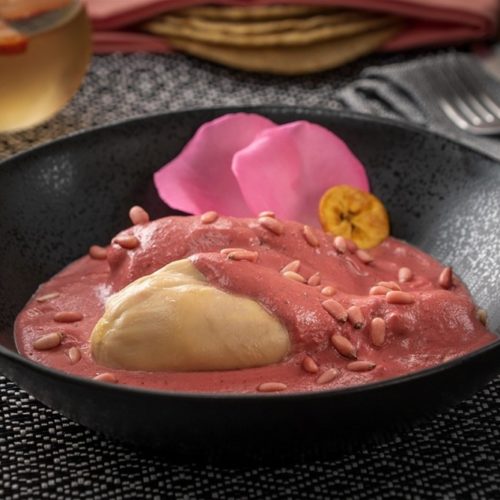 Mole Rosa
Turn the traditional mole around with this delicious pink mole, originally from the state of Guerrero. Its striking color and irresistible flavor will fill your altar of the dead with life.
Mole rosa stands out for an astonishing pink hue obtained from rosy hibiscus flower, rose-colored chiles, among other roseate ingredients. This authentic mole rosa calls for ingredients such as almonds, peanuts, Habanero and güero chiles and relies on beet to provide this luscious sauce with its intense pink color. Spooned over chicken, this authentic mole rosa is garnished with rose petals, pine nuts, and fried plantains.
Ingredients
1/2

cups

peanut

for the mole

1/2

cups

almond

filleted, for the mole

1/2

cups

sesame seeds

white, for the mole

1/2

cups

pine nuts

pink, for the mole

1

güero chili

for the mole

2

slices

of white bread

for the mole

1/2

white onions

for the mole

1

clove

garlic

3

tablespoons

of butter

3

habanero peppers

1/2

plantains

fried

1

cinnamon stick

1

star anise

5

allspice

2

nails

1

cup

of blueberry

1

beet

to taste of salt

4

cups

of chicken broth

8

corn tortillas

2

plantains

8

Pieces

chicken

legs and thighs
Instructions
Heat a

saucepan

over medium heat, add the butter and sauté the almonds, peanuts, pine nuts and sesame, for a maximum of 5 minutes; it is important that they do not brown too much. Booking.

Place the beets with everything and peel on a tray and bake for 30 minutes, at 400 ° F. Remove the skin and reserve.

Blend seeds, fried chiles and baked beets; Add

chicken broth

and blend until smooth.

Heat a pot over medium heat and add butter, fry the mole and cook for 30 minutes at low temperature, taking care not to stick

Serve a mirror of mole on a plate, place chicken pieces and bathe with more mole. Decorate with pink pine nuts, rose petals and fried plantains; Accompany with tortillas and your favorite drink.
Video