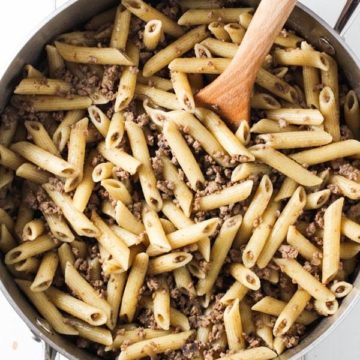 Makarony Po Flotski (Russian Navy Style Pasta)
Makarony Po Flotski or Russian Navy Style Pasta is a quick, budget-friendly pasta dinner that you can make even on a weeknight. With just a few simple ingredients, you will be able to whip up this delicious dish in under 30 minutes. Russian Navy Style Pasta is a simple, comforting, and filling dish made with pasta, ground meat, onion, and a few seasonings. The Russian Navy discovered this in Italy but did not have fresh tomatoes like the Italians had so they had to improvise. It's also known as Navy Macaroni, Fleet Macaroni, and Sailors Macaroni.
The legend has it that in the beginning, this dish was served for crews of navy and fishing ships. The news about this inexpensive dish spread fast, and it became so popular that it was served practically at every canteen from kinder-gardens to factories.
In my family, my Bubbie "Grandmother" who came from Russia in 1914 cooked Makarony Po Flotsky. She called it Luction with fresh hamburger and it was our favorite. In addition to onion and some kind of fat or oil for frying, all you need are pasta and meat. You can use all kinds of pasta for this dish. Thick pasta shapes that are medium in size, such as fusilli, penne, rigatoni, rotini, tagliatelle, etc. are best.
Usually, Macarony Po Flotski is made with beef or a mix of beef and pork. You can cook the meat yourself from scratch or use Tushonka, which is a canned stewed meat product popular in Russia and other countries of the former Soviet Union. Tushonka was often used to make Navy Macarony in remote locations where fresh meat wasn't available. To make the dish more flavorful, you can add a little bit of garlic, red paprika, and tomato paste.
Ingredients
2

Tbsp.

vegetable oil

1

medium onion

thinly sliced

1 1/2

pounds

beef (steak works well)

any cut

1/2

tsp

garlic powder

1/4

tsp

red paprika

1/2

tsp

salt or to taste

1

pound

pasta

1

Tbsp.

butter
Instructions
Boil the pasta in salted water until it is al dente - a state when it is slightly hard inside. Add the butter and stir to keep it from sticking to itself.

Cut the onion into large slices, fry in vegetable oil. We also cut the beef into pieces, put it on the onion and fry it. When the meat is covered with a crust, salt and fry until tender.

Grind the finished meat with onions in a

food processor

or

blender

into minced meat. Heat vegetable oil in a

skillet

and add garlic, paprika, and one teaspoon of

tomato paste

. We spread the minced meat and fry. Warm black pepper in a dry frying pan so that its taste is revealed. Next, grind it and sprinkle it with minced meat.

We spread pasta to the minced meat, mix and re-heat.
Video
Notes
In Russia, ground meat like hamburger is always suspect and does not keep as well as steak. In this recipe steak is cooked and then minced. The meat takes on a roasted flavor unlike that of ground beef.