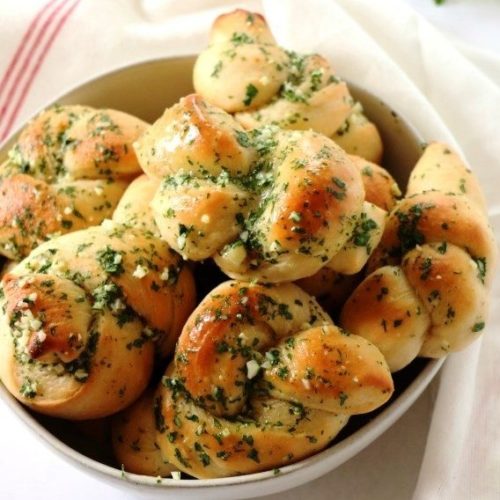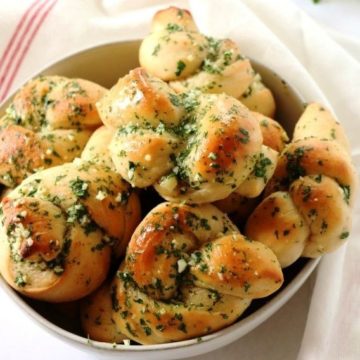 Garlic Knots
Garlic knots are a type of garlic bread found primarily in pizzerias around New York City and the surrounding regions. They were developed in the 1940s in Brooklyn. Many pizzerias claim to be the progenitors of the baked good. As they are a way to make use of scraps, garlic knots tend to be the least expensive item on a pizzeria menu, often provided as complimentary with larger orders.
Ingredients
For the Dough:
3

cups

All Purpose Flour

2

tsp

Instant Yeast

2

tsp

Kosher Salt

2

tsp

Sugar

1 1/4

cup

Warm Water

1

Tbsp

Olive Oil
Instructions
In the bowl of a standing

mixer

, add all the ingredients for the dough, knead on medium speed for about 3 minutes or until smooth, place in an oiled bowl, cover and allow to rise until doubled in volume, about an hour and a half.

Dump the dough on a lightly floured surface, deflate, cut into 1 inch strips then take each strip and make knots of them (watch video to see how I do this in detail) place them on a

parchment paper

lined

baking sheet

, cover and let them rest for half an hour.

Preheat your oven to 425 degrees. Bake the knots for about 15-20 minutes or until golden, meanwhile make the garlic oil by simply stirring together the oil, garlic, parsley, hot pepper flakes and parm, set aside.

Once the knots are done, add them to a

large bowl

, mix together well with the garlic oil then cover with plastic wrap and let them sit about 10 minutes before serving.