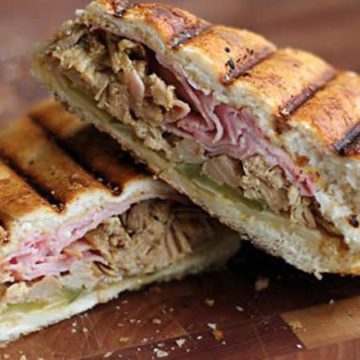 Cuban Sandwich
A Cuban sandwich (Spanish: Sándwich cubano) is a variation of a ham and cheese sandwich that likely originated in cafes catering to Cuban workers in Tampa or Key West, two early Cuban immigrant communities in Florida centered on the cigar industry. Later on, Cuban exiles and expatriates brought it to Miami, where it is also very popular. The sandwich is made with ham, roasted pork, Swiss cheese, pickles,
mustard
, and sometimes salami on Cuban bread. Salami is included in Tampa, where there is a large Italian population, but is not usually included in South Florida. The Cuban sandwich is at the center of a long-running friendly rivalry between Miami and Tampa. As part of that rivalry, the "Historic Tampa Cuban Sandwich" was designated the "signature sandwich of the city of Tampa" by the Tampa City Council in 2012.
Ingredients
Sandwich:
4

Cuban Bread or Italian Bread

3

tbsp

butter

1

lb

Cuban Roast Pork

8

slices

sliced ham (sweet cured or smoked

Serrano, or bolo ham – I used honey ham

8

slices

Swiss Cheese

1

head garlic Optional

1

sweet onion Optional

Dill pickle slices

*Sriracha Optional
Cuban Roast Pork:
4

pound

Pork shoulder roast

also known as a pork butt

1

garlic clove

1

tsp

salt

1

tsp

black peppercorns

1

cup

sour orange juice I used 2/3 cup 100% orange juice

not from concentrate, 1 lime juiced and 1 lemon juiced

1

cup

minced onion

2

tsp

dried oregano

1/2

cup

olive oil
Instructions
Cuban Roast Pork:
Mash the garlic, salt and peppercorns into a paste, using a mortar and pestle or a

food processor

. Stir in sour orange juice, onion and

oregano

. Let mixture sit for 30 minutes.

Pierce the pork roast several times all over with a fork or sharp

knife

. Place it in a

roasting pan

and pour garlic mixture (save a little for basting while roasting) over pork. Cover and let sit in the

refrigerator

for two or three hours.

Preheat the oven to 375°F.

Remove lid from the pork and roast for 20 minutes. Reduce temperature to 225°F and roast until the meat is soft and you can pull it apart easily with a fork, about 2 hours and 20 minutes. Baste occasionally while roasting. I roasted mine to an internal temperature of 175°F. Remove from the oven and let rest 10 minutes before slicing.
Optional Roasted Garlic and Carmelized Onions:
To roast garlic, cut off top 1/3 of garlic head and place in pan. Drizzle with roughly 2 tablespoons of

olive oil

, cover with

foil

and roast in oven for 30-45 minutes or until soft. Squeeze roasted garlic into bowl and mix with

Dijon mustard

and dry white wine. Add salt/pepper to taste.

To caramelize onions, heat remaining

olive oil

in frying pan and cook chopped onions on low heat, usually at least 30 minutes. Don't stir too often. Once caramelized, remove and set aside.
Sandwich Assembly:
Butter a hot

griddle

or pan. Place the sandwich on the pan and using a heavy

skillet

,

bacon press

or

foil

wrapped brick, or

panini press

, flatten the sandwich for approximately 3 minutes and then flip to the other side.

Cut Cuban bread lengthwise and slather one side with the garlic-infused

mustard

. Layer thinly sliced ham, roasted pork, caramelized onions, Swiss cheese and pickle slices.

Spread butter on the outside of the Cuban bread before topping on assembled sandwich and cooking in a

Panini press

. Once outside is crisp, turn over and cook on the other side.

You don't want you pan so hot that your bread burns but it needs to be hot enough to melt your cheese. Cook until the bread is golden brown.

Slice

the sandwich diagonally and serve immediately.
Notes
We like to get these from The Mexican Bakery in San Jose, California when we are there. Otherwise we might vary the style and ingredients like adding roasted garlic and sauteed onions.