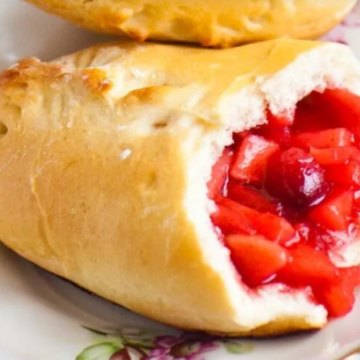 Cranberry Apple Piroshki
One of my favorite Ukrainian desserts! My cranberry apple piroshki are so delicious, with a tart and fruity apple filling wrapped in a fluffy yeast dough! Piroshki are Eastern European hand pies and can be found with just about any type of filling, both sweet and savory! This sweet piroshki recipe is near and dear to my heart – I used to make these with mom every fall! Traditional apple piroshki don't have cranberries but I think they're an excellent addition!
Ingredients
Yeast Dough:
1 1/2

cups

lukewarm milk

1

tablespoon

dry active yeast

1/2

cup

white granulated sugar

1/2

teaspoon

salt

1

large egg

2

tablespoon

canola oil

3

tablespoons

butter

melted

4 to 4 1/2

cups

all-purpose flour
Apple Filling:
Instructions
Begin by preparing the dough. In a

large bowl

, combine the yeast and warm milk and let the yeast dissolve and proof for 5 minutes. Next, whisk in the sugar, salt, egg, butter and oil for a minute, until the egg is well beaten. Gradually begin adding the flour, whisking it in at first, then mixing the dough by hand. Turn the soft dough onto a floured surface and knead 4 to 5 minutes, until dough is smooth and elastic.

Place the dough back into the mixing bowl, cover it with a clean towel and let rise in a warm corner of the kitchen until doubled in size, approximately 1 hour. Keep the dough in warm place away from drafts. Once the dough has proofed, knead it again on a lightly floured work surface for about 1 minute, then divide it into 16 equal pieces. Keep it covered when not using.

While the dough is proofing, prepare the filling. Core and peel the apples then chop them into small pieces and place into a

large pot

along with the cranberries. In small ramekin, combine the sugar,

cinnamon

,

nutmeg

, and cornstarch. Toss together fruit, berries and sugar mixture, until the fruit is well coated. Bring the filling to a simmer over medium heat. Cook the filling until the cranberries burst open and apples are soft and tender, about 15 minutes. If needed, add a bit of water if the filling gets too thick. Remove the filling from heat and let it cool before using.

Preheat the oven to 350F. Grease 2 baking sheets with baking spray or line with

parchment paper

.

To assemble the piroshki: roll each piece of dough out into small circle, approximately 6 inches in diameter. Place 3 heaping tablespoons of the filling into the center and bring the edges of the dough up and together, careful not to get any filling on the edges. Pinch the dough together, forming seam on the top. Try to bring the edges up so they do not lay flat on surface and so filling does not leak out. Place the shaped piroshki onto the prepared

baking sheet

, spacing them 2 to 3 inches apart.

In small bowl, whisk together the egg and water until smooth, about 1 minute.

Brush

the top of each piroshok with egg wash and let piroshki stand at room temperature until doubled in size, about 30 to 40 minutes. Bake one

baking sheet

at a time in the preheated oven for 20 minutes, or until the piroshki are golden brown on top. Remove them from the oven and transfer onto cooling rack. Let the piroshki cool for 10 to 15 minutes before enjoying! They will be extremely hot out of the oven.