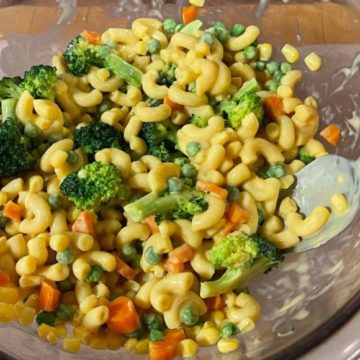 Confetti Macaroni and Cheese
Confetti Mac and Cheese is a twist on the classic! This tasty One-Pot Mac and Cheese is blanketed with a deliciously easy cheesy sauce and loaded with veggies! For a quick club or event dish, just use leftover or frozen veggies and store bought ready to serve Mac and Cheese. Ether way you can't go wrong.
Ingredients
1

cup

cooked/leftover veggies

or more!

1.5

cups

water

1

cup

milk

2% or whole only

8

oz

mini shell pasta or regular elbow macaroni

4

oz

Deli-counter American cheese

this helps create the ultimate sauce

1/2

tsp

dijon mustard

1/8

tsp

garlic powder

1/8

tsp

ground cayenne pepper or sweet paprika

4

oz

sharp or extra-sharp cheddar cheese

grated from the block

salt and pepper to taste
Instructions
Cook or re-heat your veggies. This is a fabulous opportunity to raid the

fridge

and freezer for leftovers. Peas, carrots, broccoli, spinach, squash, and anything else you have on hand will work marvelously! You can steam, roast, saute, or even microwave the veggies – whichever you prefer!

Freshly grate cheddar cheese off the block and chop/grate deli american cheese. Block American cheese purchased form the Deli counter works best here because of it's high milk content. Freshly grated cheese is needed here because pre-shredded does not work due to additives.

Measure out all remaining ingredients for ease/efficiency.

Bring water and milk to a boil in a medium

saucepan

or pot set to HIGH heat.

Stir in mini shell or elbow macaroni and a teeny pinch of salt. Reduce heat to a MEDIUM-LOW active simmer. Use a metal whisk to stir often to prevent sticking.

Cook until macaroni reaches desired tenderness, approx. 7-9 minutes.

Add American cheese,

dijon mustard

, cayenne, and garlic powder. Whisk constantly for one minute until the cheese has melted into a luscious sauce.

Remove pot from heat.

Whisk in grated cheddar cheese slowly, working in 2-3 batches until completely melted. Cover with the pot's lid and allow to sit and thicken for 5 minutes.

Add any additonal salt/pepper/spices to taste if needed. Basically let your taste buds be your guide. If anything it's an excuse to shove a few spoonfuls in you mouth while you get the plates ready.

Stir in cooked veggies and enjoy!
Notes
Easy, cheesy, goodness! To turn this pot-o-comfort food into a balanced meal, pair a serving of confetti mac with a leafy green salad [bonus points for the extra veggies!] and there's no reason for you to feel anything but happy.
Bulking up a standard 1-cup serving of macaroni with cheese with a pile of veggies not only gives you a larger pile of delicousness on your plate but also packs in an extra dose of vitamins and antioxidants.
Guilt is for the birds. This dish is quick, easy, and contains only natural, whole ingredients.
The veggie love doesn't stop there — you can whip up confetti mac short-cut style with a box of all-natural macaroni and cheese [I love Annies brand] or even one of the all-natural or even vegan varieties that health food stores and larger grocery stores carry. Anything goes as long as you pile on those veggies!