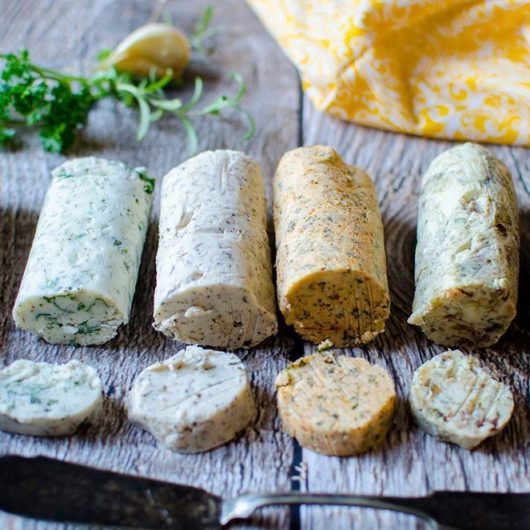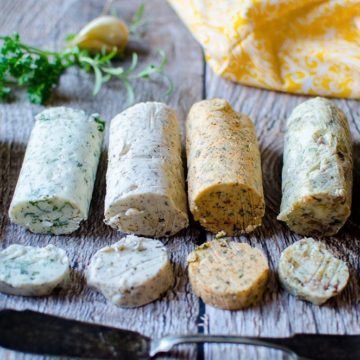 Compound Butter
One of the easiest things to make and often overlooked when having steaks, chops, fish, or vegetables. Create these easy flavor bombs ahead, freeze, and use as needed. Stored in an air-tight bag, you'll have go-to, fabulous flavor at your fingertips. Stores for months in the freezer and one week in the
fridge
.
Ingredients
Instructions
TOOLS FOR CRAFTING THE PERFECT COMPOUND BUTTER
We love a good food processor. Especially for butter that requires mincing or chopping. It makes the job easier. A powerful blender or Vitamix will work too. But you can simply use a bowl and spoon. You'll want to create a log that can be cut into individual serving coins.

THE TECHNIQUE

All compound butters begin with softened, room temperature butter.

If using fresh herbs, wash and thoroughly dry them before chopping. We like to use a

salad spinner

to remove moisture from herbs. Then we pat dry with a paper towel before chopping.

Choose your favorite flavor profile from the compound butter recipes above. Simply adjust the ingredients accordingly and mix them by hand or in a food processor or blender.

Prepare the ingredients. Butter needs to be softened to room temperature.

Pulse the food processor until combined. Or, in a medium bowl, add room temperature butter, mix thoroughly with the back of a spoon until well combined.

Spoon the butter mixture onto the center of a sheet of wax paper, parchment paper or plastic wrap.

Using a

spatula

or spoon, drop the butter onto wax paper. Shape into a rough rectangular size, similar in size to a stick of butter.

Roll the bottom half of the wax paper over the butter. Roll tightly into a log shape. Twist the ends of the wax paper. Place in the

refrigerator

for 2 hours to chill.