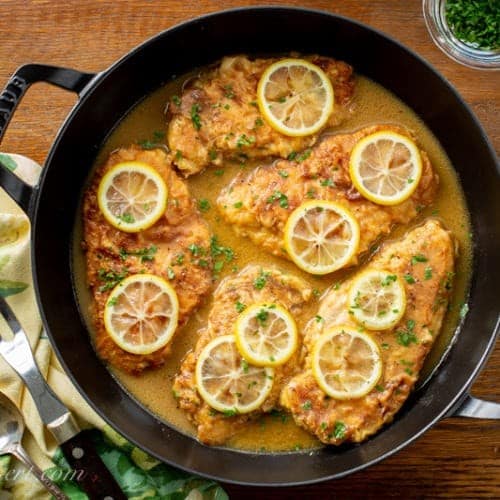 Chicken Francese
French, is one of those rare restaurant dishes that's truly easy to cook at home. If you can make chicken cutlets, you can make this lemony, buttery recipe; the only difference is an easy pan sauce that brightens the whole plate. This version includes lemon slices browned in butter, which are pretty and tasty but entirely optional. Although the name suggests that it's a French or Italian dish ("Francese" means French in Italian), it's actually neither: Like spaghetti and
meatballs
, it's a mostly Italian-American invention. Serve with something starchy to soak up every drop of the sauce; pasta is traditional.
Ingredients
Instructions
Crack the eggs into a large enough dish to fit chicken breast. Season eggs with salt and pepper, give them a light beat.

Chop the parsley finely (keep a few sprigs for garnish) and add half to egg mixture.

Grate all the

Parmesan

cheese finely and add to egg mixture, mix well. Set aside.

Remove chicken skin if any, then butterfly cut your breast. Hold a long sharp

knife

along the thicker part of the breast, place your hand on top and

slice

through the breast almost until the end. Cut parallel to your

cutting board

, and open the breast like a book. Place cling film on a board, add your breast spread open, sandwich it in cling film and flatten the thicker side using the flat side of a meat mallet or the underside of a

saucepan

.

Get your wine and chicken stock portions ready.

Add the plain flour to a plate, spread it out flat by shaking plate.

Peel the garlic and place in garlic press (or chop finely).

To a large frying pan on moderate heat, add the

olive oil

and half the butter.

Coat the chicken in the flour, shake off any excess flour.

Dip the chicken in the egg wash, make sure it's totally covered and place in hot oil.

Cook chicken for approx. 4 minutes each side (depending on thickness). Flip over once brown and cook the other side. Transfer chicken to a hot plate and rest.

If making the lemon slices (if not, skip this step): Melt 3 tablespoons of the butter and then scatter the lemon slices over the bottom of the pan. Cook, stirring gently occasionally, until the lemon slices are golden and browning around the edges, about 3 minutes.

Scoop

out the lemon slices and set them aside.

To the same frying pan on full heat, add the white wine (alcohol can catch fire so be careful, turn off heat first if unsure). Add the chicken stock. Add the crushed garlic. Add the squeeze of half a lemon. And leave to reduce 2 minutes on high heat.

Add the remaining half of chopped parsley. Add the remainder of butter and mix until butter is melted on very low heat.

Return the chicken to the sauce and continue heating chicken on low heat no more than 30 seconds.

Serve the chicken on warm plates. Place the browned lemon slices on top. Sprinkle with chopped parsley and serve, spooning some of the sauce over each serving.
Video