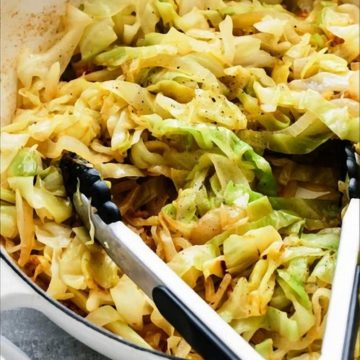 Caramelized Cabbage
Caramelized Cabbage is the basis for many other dishes, including Russian braised Cabbage, Southern fried cabbage with bacon and onions, St. Paddy's day, fried cabbage, Mexican Cabbage and Tomatoe salsa. Its versatile and flavorful
Ingredients
Instructions
Basic Caramelized Cabbage:
Cut the cabbage into thin strips 2" (5cm) by 1/4" (1/2 cm).

Set a 12" stainless steel

skillet

with straight sides (or something similar) over high heat. Add the oil. When the oil is hot, add the cabbage, salt, and stir. Cook covered stirring occasionally until you develop a lot of browning. Once you are halfway there, start dropping the heat and checking the cabbage more frequently. This will take about 25 minutes. If the

skillet

is ever dry, add the butter or more oil.

Reduce the heat to low, add the wine, scrape up the brown bits and cook uncovered stirring occasionally until the cabbage starts to brown again, about 10 minutes. Take off heat, stir in pomegranate

molasses

, taste and adjust for salt. Can be made ahead and rewarmed. Will last in the

fridge

for 5 days.