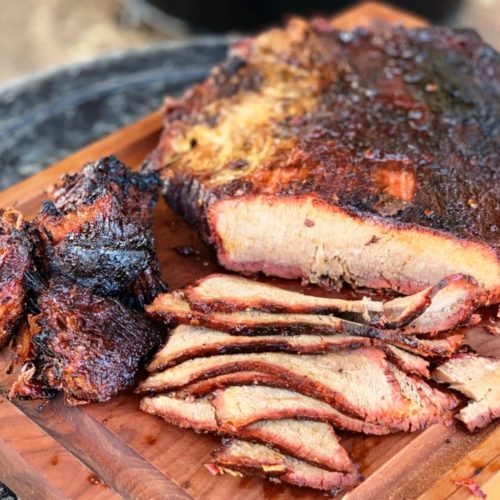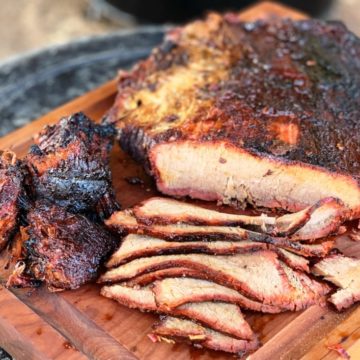 Smoked Brisket
Smoked Beef Brisket is the ULTIMATE barbecue dish to feed a large crowd, and is especially easy and fun to cook on a
pellet
grill
.
Ingredients
Brisket:
1

Whole Packer Beef Brisket 10-14 lbs

Cooking Oil
Rub:
1

cup

Kosher Salt use more or less if needed depending on brisket size

½

cup

smoked paprika

¼

cup

Black pepper

⅛

cup

Garlic Powder

⅛

cup

Onion powder

1

Tbsp

Cayenne powder
Instructions
Prepare the Brisket:
Trim any excess hard pieces of fat from the exterior of the brisket, leaving about 1/4 inch thickness on the fat cap.

Score the fat cap to allow more fat to render out and the rub to penetrate.
Inject the Brisket:
Mix the Marinade Injection ingredients well until the sugar dissolves.

Place the brisket in a pan to catch excess liquid from the injections and inject in small amounts every 1 inch or so on both sides against the grain of the meat.
Apply the Rub:
Apply a thin layer of cooking oil to the entire exterior of the brisket.

Mix the rub ingredients well and apply generously to the entire exterior.

Wrap in plastic wrap and place in the

refrigerator

for up to 2-3 hours while you prepare the

grill

to allow the injection and the exterior rub to penetrate the meat.
Start the Pellet Grill:
Remove the fire pot from the bottom of the Pellet Grill and clean out any ashes left over from the last cook. Replace it and make sure it is secured in place with the clips on either side. Also, wrap the drip tray in aluminum foil to limit the cleanup needed later.
Smoke the Brisket on the pellet grill:
Remove the plastic wrap and place the brisket on the

pellet

with the thicker end pointing to the right.

Place an internal temperature probe if you have one into the center of the brisket.

Close the lid, cook the brisket until it reaches about 150-160°F internally.
Optional Texas Crutch:
Carefully remove the brisket and place on a large sheet of

aluminum foil

.

Wrap the brisket in opposing directions with three layers of

foil

, tightly.
Remove, Rest, and Slice the Brisket:
Let the brisket rest for at least 60 minutes before slicing to allow the juices to distribute.

After resting, place the brisket on a large

cutting board

.

Slice

against the grain on a diagonal in ¼ inch slices and serve immediately.

Save extra brisket unsliced and tightly wrapped to maintain moisture.