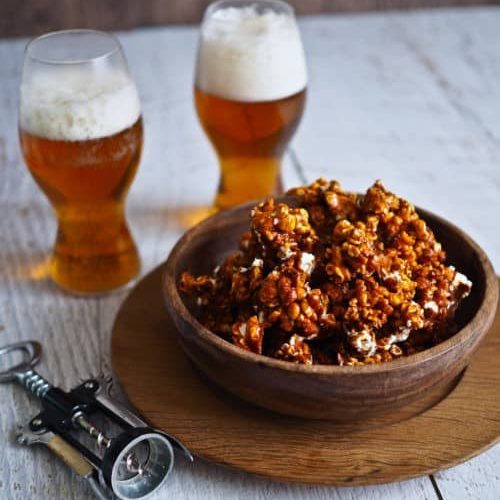 Peking Duck Popcorn
On Broadway Street in San Francisco, we tried a bag of Peking Duck caramel popcorn at a fabulous Chinese restaurant called China Live and I was hooked! For those of you that are wondering, there's actually no duck in this Peking Duck popcorn. The flavoring is actually from hoisin sauce, the delicious accompaniment to Peking Duck pancakes. Of course you could skip the hoisin and just use real duck fat, but then thats a different flavor profile
Ingredients
1/4

cup

popcorn kernels

2/3

cup

brown sugar

1/4

cup

honey

1

ounce

butter

optionally duck fat

3.5

tablespoons

hoisin sauce

1/2

teaspoon

salt

1/4

teaspoon

baking soda

2

tablespoons

sesame seeds
Instructions
Place the unpopped corn in a paper bag and fold over the top 3-4 times to secure. Place in the microwave and heat on high for 2-2.5 minutes (listen for the rapid popping sound).

Line a large baking tray with parchment. In a heavy-bottomed

saucepan

place the brown sugar,

honey

, butter,

hoisin

sauce, and salt. Bring to a boil stirring to combine the butter and then boil without stirring until it reaches 140C/285F on a sugar

thermometer

. Turn the heat off and add the bicarb and stir. Add in the popped corn and swirl to coat all pieces. Layout on the prepared baking tray immediately (as it cools it hardens).

Preheat oven to 121C/250F and bake for 1 hour to dry it out. Store in an airtight container.
Video