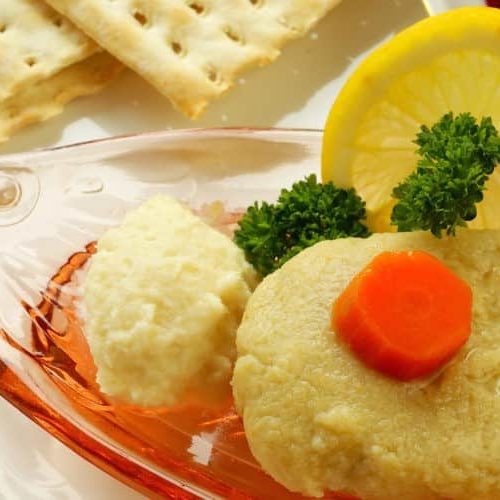 Gefilte Fish
Gefilte fish, a pescatarian's meatloaf of ground fish, onions, starch, and eggs, is both an object of culinary delight and a linchpin of Jewish shtick. Born in Europe out of religious obligation, poverty, and ingenuity, gefilte fish survived in America due to bottling technology
Ingredients
For the Stock
1.6

cups

0.4 liter Fish stock or fresh bones with water

0.8

sprigs Parsley

0.2

cup

Onion

chopped

0.2

cup

Carrots

chopped

0.4

tsp

Salt

4

Peppercorns

0.2

tsp

Fennel seeds

optional

0.8

leaves

Bay leaves
Fish Cake
0.8

lbs

360 g Fish fillets ground

0.4

cup

Onion

0.8

Boiled eggs

large

0.8

Fresh eggs

large

0.3

cups

40 g Matzo meal

2

tbsp

30 g Sugar

Salt and Pepper to taste

For the Horseradish
Beet Horseradish
0.4

cups

Raw Beet

grated

0.1

cup

24 ml White vinegar

1.2

tbsp

Sugar

.8

cups

Horseradish

grated
Instructions
Prepare the fish stock
Pour stock into a wide cooking pan. If using fish bones add water and fishbones to the pan. (see notes above)

Add all stock ingredients, stir.

Cover and simmer on medium-low for 1 hour (if using fish bones simmer ½ hour more)

Once simmered - drain or remove all veggies.

Discard all other vegetables but save the carrots for garnish.
Prepare the fish
If using whole fish - fillet them and use the bones for stock above.

If using fish fillets - pulse in the

food processor

for a minute or more to make groundfish
Prepare onion/egg mix
Then add the parsley, boiled eggs, salt, and pepper until fine but not smooth.

Combine fish cake mixture

In a

large bowl

- add all the fish cake ingredients starting from groundfish, onion mixture, matzo meal, eggs, sugar, salt, and pepper.

Combine the mixture well but do not over mix (to prevent tough fish cakes)

See consistency - you want it to be soft but still be able to shape in an oval cake.

If it's too stiff the cakes will be hard as the matzo meal will absorb all liquid, so add a few tbsp of water to the mixture.
Foam fish cakes
Use a ¼ or ⅓ cup to measure mixture if you want to ensure all are the same size

Wet your hands with water to prevent the fish batter from sticking to your hands

Roll into a ball then shape into an oval.

You can keep the formed fish cakes in the

fridge

until the stock is ready.
Cook the fish cakes
Once the fish broth is ready.

Reduce the heat to low so the broth is a gentle simmer

Gently place the fish cakes in one at a time.

Use a spoon to move them around gently to create more space.

Once all the fish cakes are in; cover with a lid

Keep the broth on a medium-low simmer for one and half hour.
Remove the cooked fish
After an hour and a half, the fish cakes will be cooked and have turned white.

Pour some of the fish stock over to keep them moist.

Garnish with sliced carrots (we saved from the stock above) and a parsley leaf

Place in the

fridge

for a few hours to chill