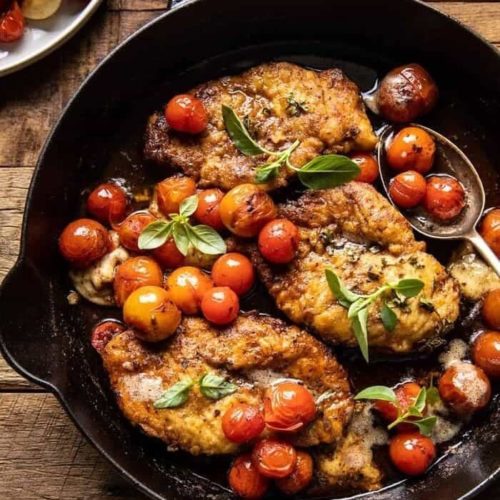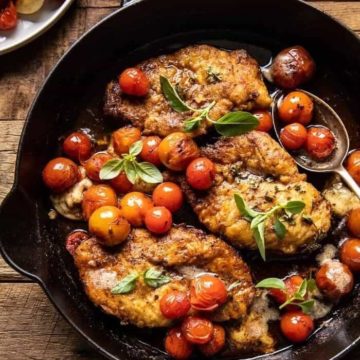 Florentine Butter Chicken
This recipe is inspired by Editor in Chief Hunter Lewis' trip to 150-year-old Trattoria Sostanza in Florence. Cultured butter has a higher butterfat content, with a slight tang from those cultures. The butterfat gives cultured butter a slightly higher smoke point and, when combined with
olive oil
, gives enough cooking time to finish the chicken and the sauce simultaneously. If the butter is darkening too quickly, remove it from the heat and continue to baste with the hot butter.
Ingredients
1

large egg

beaten

1/4

cup

all-purpose flour

2

7-ounce boneless, skinless chicken breasts, lightly pounded to 3/4-inch-thickness

1

teaspoon

kosher salt

1/4

teaspoon

coarsely ground pepper

1/2

cup

plus 2 tablespoons (5 ounces) cold salted cultured butter (such as Vermont Creamery), cut into pieces, divided

3

tablespoons

olive oil

1/4

cup

fresh lemon juice

from 2 lemons
Instructions
Place beaten egg in a shallow bowl or pie plate. Spread flour in a separate shallow bowl or pie plate. Season chicken with salt and pepper. Working with 1 breast at a time, dip chicken in egg, letting any excess drip back into bowl, then dredge in flour, shaking off excess.

Melt 1/4 cup butter with oil in a 10-inch stainless steel

skillet

over medium-high, and cook, swirling occasionally, until milk solids begin to sink to bottom of

skillet

and start to brown, 4 to 5 minutes. Add chicken, rounded sides down, and cook, swirling

skillet

occasionally, until lightly golden, about 3 minutes. Carefully turn chicken over, and add remaining 6 tablespoons butter. Tilt

skillet

toward you so butter pools, and cook, basting chicken often, until chicken is just cooked through and golden brown, 4 to 5 minutes.

Remove from heat, and carefully pour in lemon juice (butter will start to bubble). Serve immediately.