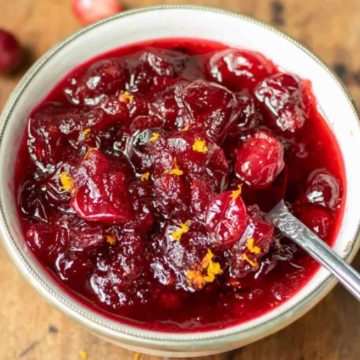 Cranberry Compote
Cranberry Compote is a quick, easy and lighter version of cranberry sauce!
This Cranberry Compote recipe is a great accompaniment to poultry and pork dishes, but can also be used as a side dish for many meals.
Its unique tart and sweet flavor pairs well with most meats and vegetables and gives them a pop of color that looks and tastes amazing. You can even use it to top off desserts like ice cream!
Ingredients
4

cups

cranberries

fresh or frozen (thawed, if frozen)

2

cups

granulated sugar

2

teaspoons

black pepper

1

teaspoon

salt

zest and juice from three oranges
Instructions
Combine all ingredients in pot over medium heat, stirring occasionally until mixture is thick and all berries have 'popped'. Remove from heat and cool completely before use.