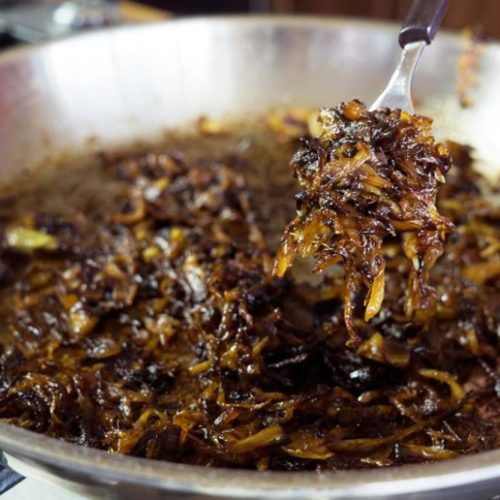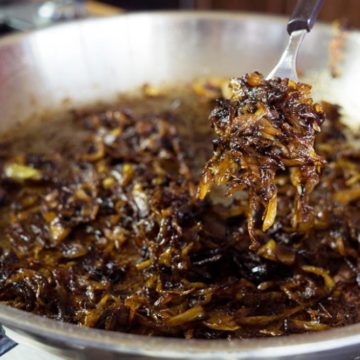 Caramelized Onions
A fast way to carmelize onions. We started our caramelized onions in a covered
nonstick
skillet
over high heat with ¾ of cup water. The water and steam helped the onions quickly soften. Then we removed the lid, lowered the heat to medium-high, and pressed the softened onions into the bottom and sides of the
skillet
to allow for maximum contact with the hot pan. Instead of finishing with sugar or
honey
as many recipes call for, we added baking soda, which speeds up the reaction that converts flavorless inulin (a polysaccharide present in onions) to fructose.
Ingredients
3

pounds

onions

halved and sliced through root end 1/4 inch thick

13

tablespoons

water

2

tablespoons

vegetable oil

¾

teaspoon

salt

⅛

teaspoon

baking soda
Instructions
Uncover, reduce heat to medium-high, and use rubber

spatula

to gently press onions into sides and bottom of

skillet

. Cook, without stirring onions, for 30 seconds. Stir onions, scraping fond from

skillet

, then gently press onions into sides and bottom of

skillet

again. Repeat pressing, cooking, and stirring until onions are softened, well browned, and slightly sticky, 15 to 20 minutes.

Combine baking soda and remaining 1 tablespoon water in bowl. Stir baking soda solution into onions and cook, stirring constantly, until solution has evaporated, about 1 minute. Transfer onions to bowl. (Onions can be refrigerated for up to 3 days or frozen for up to 1 month.)
Notes
We prefer yellow or Spanish onions in this recipe for their complex flavor. Slicing the onions through their root end prevents them from breaking down too much during cooking. Caramelized onions are easily added to most any meal. Try them in an omelet, in a frittata, or with scrambled eggs. They taste fantastic on grilled cheese sandwiches, BLTs, and burgers or thrown into pasta dishes and green salads. Try sprinkling them over bruschetta, focaccia, or pizza. They also can be used to spiff up baked and mashed potatoes, rice, risotto, and polenta.