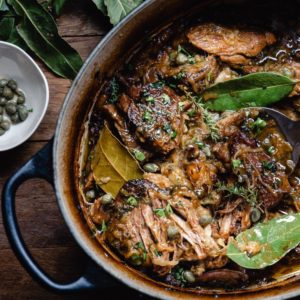 Beef Carbonnade
Are you a little tired of the boeuf bourguignon? Then you have to try this northern France carbonnade, a slow-cooked beef with caramelized onions, fresh herbs and dark Belgian beer (instead of red wine), and what a difference that makes.
Ingredients
1

kg

chuck steak

or any cuts of beef suited to slow cooking

4

onions

finely sliced

1

tbsp

butter

1

tbsp

vinegar

1

tbsp

brown sugar

1

tbsp

flour

toasted

1

tbsp

capers

4

tbsp

mixed herbs

eg. parsley, chives, tarragon, chervil

400

ml

13.5 fl oz Belgian dark ale (I used Chimay Grande Reserve)

tbsp

of oil for frying meat

A few sprigs of thyme

Salt and pepper to season

Some extra water to top up – as shown on video
Instructions
Preheat the oven to 150 °C (300 °F).

Cut the beef into thin steaks of about 2 cm (½ inch) thicknesses and season them with salt. Thinly

slice

the onions and finely chop the herbs.

Bring an oven proof pot or

Dutch oven

with a tablespoon of oil (I used grapeseed oil) to high heat, then sear the meat to a dark brown color on each side. Do this in stages to avoid overcrowding the pot. When done transfer the meat to a tray and cover with

foil

.

Add a nudge of butter to the pot and cook the onion slices (make sure the heat is not too high) for at least 15 minutes, stirring from time to time. The onions need to be almost caramelised. Once cooked, set them aside in a bowl.

Return the meat to the pan, sprinkle the toasted flour over and mix all the pieces of meat together. Then transfer to the tray you used earlier.

Now layer the ingredients in the pot. Start with a layer of meat followed by a layer of onions and a layer of herbs. Repeat the process with the rest of the meat, onions and herbs.

Pour the

vinegar

over the meat, followed by the sugar,

thyme

,

bay leaf

and finish with a sprinkle of salt and pepper. Pour the beer into the pot followed by the meat juices remaining in the tray on which the slices were reserved after browning. Finish off by adding water until the liquid just about covers the ingredients.

Place the lid on the pot and put it in the oven. Cook for 3 hours until the meat falls apart.

You can pair this dish with a side of potatoes or pasta. If you want to do it the Belgium way, serve with French fries and a glass of the beer you used to cook the meat.