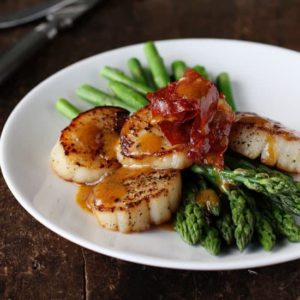 Asparagus with Scallops, Browned Butter and Prosciutto
Reviews: I made half this recipe for two of us and it was GREAT!! plus quick and easy. I made the full amount of sauce and glad I did because it is so good! I nuked the asparagus (green) and the prosciutto doesn't need to be sliced because it's crumbled over the top and adds so much to the dish One of the best recipes I've run into lately. It's not too difficult if everything is planned out. Rich flavors that blend well. Served it with a salad of Little Gem, goat cheese, and some walnuts I toasted. Loved this recipe. We used smaller scallops and more of them, and it turned out excellent. The hint of fresh lemon in the sauce makes this one of the better seafood recipes I have ever made. Definitely on our families' menu for a great Saturday supper!
Ingredients
1

pound

white asparagus

peeled, or green asparagus

3 1/2

tablespoons

unsalted butter

1

ounce

thinly sliced prosciutto

cut into 1/2-inch-wide strips

1

pound

sea scallops

Salt and freshly ground pepper

1/2

teaspoon

finely grated lemon zest

2

tablespoons

fresh lemon juice

1/4

cup

chicken stock or canned low-sodium broth
Instructions
Cook the asparagus in a large sauce-pan of boiling salted water until tender, about 8 minutes. Using tongs, transfer the asparagus to a colander and leave the pan of water simmering on the stove.

Melt 1 tablespoon of the butter in a large

skillet

. Add the prosciutto and cook over low heat until crisp, about 4 minutes. Transfer the prosciutto to a plate.

Melt 2 tablespoons of the butter in the

skillet

. Add the scallops, season with salt and pepper and cook over moderately high heat until browned, about 2 minutes per side. Transfer the scallops to a plate.

Add the lemon

zest

to the

skillet

and cook over moderate heat until browned, about 1 minute. Add the lemon juice and simmer for 10 seconds. Add the stock and simmer, scraping the bottom of the

skillet

, until reduced to a rich glaze, about 3 minutes. Swirl in the remaining 1/2 tablespoon of butter. Return the scallops, along with any juices, to the

skillet

and cook over low heat until heated through.

Return the asparagus to the simmering water to heat through. Season the sauce with salt and pepper. Using tongs, transfer the asparagus to a large platter and spoon the scallops and sauce over it. Top with the fried prosciutto and serve.
Video
Notes
Substitute Peeled Shrimp or firm fish if you want.