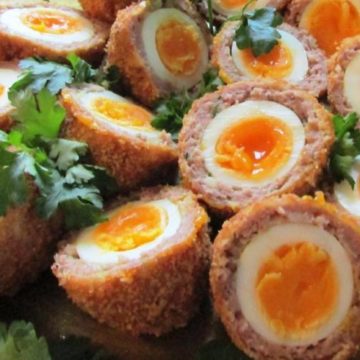 Scotch Eggs
The scotch egg needs no introduction – their English origins (they were created by Fortnum & Mason of Piccadilly in 1738), metropolitan modishness, and comedy potential having already been thoroughly chewed over, digested, and the crumbs left out for the wasps on these pages. It's got to the point where one can judge a pub's level of culinary ambition by its attitude to scotch eggs. With the jubilee in-sight, they've been co-opted as a celebratory snack – presumably because US food writers played our coronation chicken card too early, and thus need something else to provide a patriotic counterpart to the usual modern British picnic fare of Foccacia and Ottolenghi salads. The scotch egg, being robust, conveniently hand-sized, and utterly, ridiculously delicious, fits the bill nicely.
Ingredients
Instructions
Put four of the eggs into a pan, cover with cold water and bring to the boil. Turn down the heat and simmer for five minutes, then put straight into a

large bowl

of iced water for at least 10 minutes.

Put the meat, herbs, mace and

mustard

into a bowl, season and mix well with your hands. Divide into four.

Carefully peel the eggs. Beat the two raw eggs together in a bowl with a splash of milk. Put the flour in a second bowl and season, then tip the breadcrumbs into a third bowl. Arrange in an assembly line.

Put a square of plastic wrap on the work surface, and flour lightly. Put one of the

meatballs

in the center, and flour lightly, then put another square of cling film on top. Roll out the meat until large enough to encase an egg and remove the top sheet of plastic wrap.

To assemble the egg, roll one peeled egg in flour, then put it in the center of the meat. Bring up the sides of the film to encase it, and smooth it into an egg shape with your hands. Dip each egg in flour, then egg, then breadcrumbs, then egg and then breadcrumbs.

Fill a large pan a third full of vegetable oil, and heat to 170C (or when a crumb of bread sizzles and turns golden, but does not burn, when dropped in it). Cook the eggs a couple at a time, for seven minutes, until crisp and golden, then drain on kitchen paper before serving.
Notes
Serve with ranch dressing or gravy. You can also substitute the meat for vegetarian meat, or ready-made meatloaf.
Nutrition
Calories:
522
kcal
Carbohydrates:
28
g
Protein:
29
g
Fat:
32
g
Saturated Fat:
11
g
Cholesterol:
318
mg
Sodium:
623
mg
Potassium:
421
mg
Fiber:
1
g
Sugar:
2
g
Vitamin A:
394
IU
Vitamin C:
1
mg
Calcium:
94
mg
Iron:
4
mg