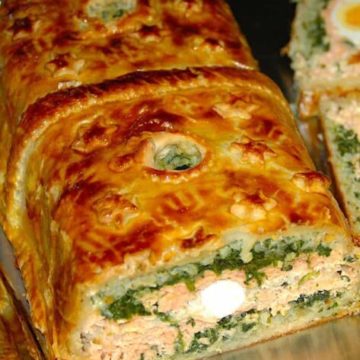 Salmon Coulibiac
James Beard once described salmon coulibiac as one of the most unusual dishes he ever encountered, and I'm not about to argue with him. Coulibiac is the French adaptation of a traditional Russian dish, kulebiaka, wherein a flavorful mixture of salmon, rice, mushrooms, shallots, hard-boiled eggs, and dill are baked inside a pastry crust.
Ingredients
1/2

stick unsalted European butter at room temperature

1

cup

sliced shallots

1

tablespoon

thyme

8

ounces

white mushrooms

sliced

1

small bunch of dill

1

clove

garlic

thinly sliced

2

pound

boneless

skinless salmon filet

4

eggs

hard-boiled

2

egg beaten for egg wash

6

cups

chopped fresh spinach

1

cup

long-grain rice

cooked

1

package puff pastry

thawed overnight if frozen

Kosher salt and cracked black pepper
Instructions
Preheat your oven to 350F (Gas mark 4).

Heat some of the butter in a

saucepan

, add shallots, thyme, and cook until shallots are soft and slightly brown. Add sliced mushrooms and cook until soft and dry. Remove from heat and mix with rice and set aside to cool.

Spread out a sheet of puff pastry dough and use a rolling pin. Add a layer of the rice, shallot, and mushroom mixture to the center of the pastry. Then add a layer of the chopped spinach followed by the hard-boiled eggs (all in line with each other). You can also optionally slice the eggs first. (my Russian Bubbie used to use hard-boiled Quail eggs wrapped in spinach, but they might be hard to find and peel.

You can fill any gaps in the sides with more rice mixture if needed. Then place the salmon filet on top of the assembled mixture. Chop up the dill and place it on top of the salmon. You can add leftover rice, mushrooms, or spinach on top. Use a pastry brush to "Paint" using the egg wash around the outside of the dough. Then wrap the loaf and trim the excess dough off.

Flip the loaf over onto an oven pan and brush the additional egg wash all over the loaf. You can use the leftover strips of dough to decorate your loaf.
Video