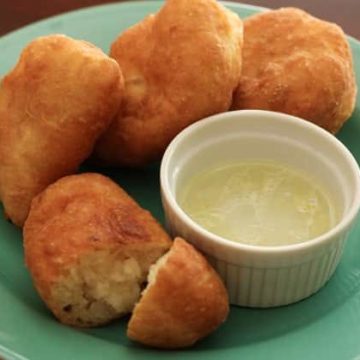 Russian Potato Piroshki with Garlic Dip – Пирожки
These are dangerously good! You must exert some self-control. Potato pirojki are one thing, but paired with the garlic dip… Oooh baby! $4-5 for 16 Piroshi's. You can also buy these ready made with Spinach, Potato or Feta Cheese custom made from The Royal Market on Geary Street. Sam, the Owner will make a batch of Giant ones for about $1.50 each.
Ingredients
Ingredients for the Dough:

1

½ Tbsp oil

15

oz

luke warm water

4

cups

+ 2 Tbsp all-purpose flour

divided

1

tsp

salt

1

Tbsp Active Dry Yeast

½ Tbsp sugar

omit sugar if doing meat or potato filling

Ingredients for Filling:

7

to 8 medium potatoes

peeled and cut into ½" thick chunks

3

Tbsp butter

melted for potatoes

½ medium onion

1

Tbsp butter for onions

Ingredients for Garlic Dip – "Vmochanka":

cup

¼warm water

1

Tbsp olive oil

1

garlic clove

pressed

tsp

½salt

Mix all dip ingredients together;

Other Ingredients:

Enough canola oil to go half-way up the side of the piroshky when frying.

cup

Lots of extra flour to dust the cutting board

I probably use at least ½extra flour
Instructions
Fill a medium pot with sliced potatoes and add water until potatoes are almost covered. Add salt, bring to a boil over high heat, then cover and reduce heat to a light boil. Boil 18-20 minutes, or until a

knife

easily pierces potatoes.

Mash potatoes, then add melted butter.Saute diced onion and 1 tbsp butter until onion is browned.Mix onions into potatoes and let the mix cool to room temp.

How to make the Dough: Using bread maker method. Set it to the dough setting and add the ingredients in the following order: Oil, water, 2 cups flour, salt, sugar, 2 cups + 2 tbsp flour*, yeast.*to get an exact flour measurement, use a dry ingredients measuring cup and scrape off the top with the back of a butter knife.Stand Mixer Method: Using a dough hook on speed 2, mix all the ingredients together, let rise 30 min in a warm spot, mix again and then let it rise again in a warm place another 45 min (no warmer than 100˚F or you will kill your yeast) It should be 2 to 2½ times in volume.Put the finished dough onto a well floured cutting board, dust the dough with flour and with well-floured hands, shape it into a large log. It will rise more as you make the piroshki. Cut off pieces one at a time about ¾″ thick. Place the piece of dough over your well-floured hand and shape it into a 3″ to 4″ circle using your hands. Do not put flour on the side where you are going to put the potatoes, otherwise the sides won't seal.

Place 1 heaping Tbsp of potato filling in the center.Cover the potatoes with the sides of the dough and pinch the ends together with your fingers to seal the dough together. If necessary, flatten the pirojki slightly to make them a more uniform size.

Heat oil in a large, deep, heavy-bottomed pan. There should be enough oil to cover the pirojki half-way up the side. Place them in the hot oil (about 330 °F) and fry until deep golden brown on each side. Place on paper towels to cool and enjoy! To make the garlic dipping sauce; just mix all the sauce ingredients together.
Notes
It helps to wash your hands half-way through the process to keep the dough from really sticking to your hand. And keep those hands well-floured!
https://natashaskitchen.com/2010/11/12/russian-potato-piroshki-with-garlic-dip/