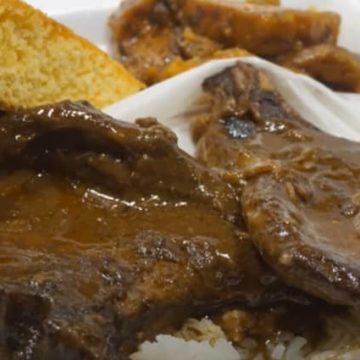 Smothered Pork Chops Baked in Onion Gravy
Soul Food Smothered Pork Chops: It's been said that all soul food is Southern food, but not all Southern food is soul food (Bob Jeffries, 1969). Both use the same ingredients in their cooking, and recipes for common dishes are very similar. The differences between the two cuisines are subtle, but very important. Soul food is more intensely seasoned and spiced; it is saltier, sweeter, spicier, fattier. It is just 'more'. More loaded with flavour and more connected to its African heritage.
Ingredients
Chops
4

fairly fatty Pork Chops

Kinder's Mild BBQ Seasoning

or your own favorite

salt

to taste

pepper

to taste
Onion Gravy
2

medium onion sliced into half moons

1/4

cup

flour

3

cups

chicken broth

2

tablespoons

oil

3

tablespoons

butter

3

cups

water as needed

paprika

Old Bay Seasoning

Browning Sauce

or Unami

Onion powder

Garlic powder

Plus some chopped Garlic is best

Italian seasoning or Oregano and Thyme

Parsley flakes
Instructions
Preheat oven to 350 F

Season pork chops on both sides with Kinder Seasoning, salt and pepper or your own favorite pork seasoning. I recommend slicing any strips of fat around the chop to keep it from "buckling". If you are not sure, you can do this while frying with a sharp knife.

In a cast iron skillet or deep Dutch oven, heat the oil to medium high heat and brown both sides of each pork chop (about 3-4 minutes per side). Work in batches as needed.

As the chops finish browning, transfer them to an ungreased baking pan, leaving the left over fat and oil in the pan.

While the chops are browning, peel and

slice

the onion – cut it in half lengthwise and

slice

it crosswise into half-moons, or chop it into ½-inch dice. It will pretty much melt down during cooking so the shape doesn't really matter. Mince the garlic. Add the onions to the hot oil remaining in the

skillet

from browning the pork chops. Cook for 3 to 4 minutes, until it is translucent, scraping up all the flavourful browned bits in the pan.

Make a roux by adding the flour and the flour butter stir until all the flour is moistened.

Add the chicken broth, a bit at a time, stirring after each addition. Bring the gravy to a boil. You can also use water.

Continue cooking and add all spices as desired (shown in video). Add browning sauce to give the gravy a darker color. All the spices are optional. I recommend testing the seasoning as you go till it tastes good. If your browning or Unami seasoning has salt, add it before the addition of other salts. BTW: Salts are not as bad for you as reported previously. Reason is that lots of other minerals taste salty and your body needs them. This may also assist in your diet if you are trying to lose weight.

In a baking tray add the pork chops and cover with the prepared gravy, making sure all are coated evenly. Or, return the chops to the Dutch oven and turn to coat completely.

If the gravy is too thick, thin it with a bit of water or if it is too thin, cook it a bit longer with the lid or foil off until it has thickened up to your liking.

Serve the gravy and pork chops as they are, or remove the pork chops to a platter and serve the remaining gravy.

Serve with mashed potatoes or rice and a green vegetable (like stewed or sautéed leafy greens, broccoli, or green beans) or corn on the cob. Corn bread served on the side is also traditional. We also like baked sweet potatoes with this dish.
Video