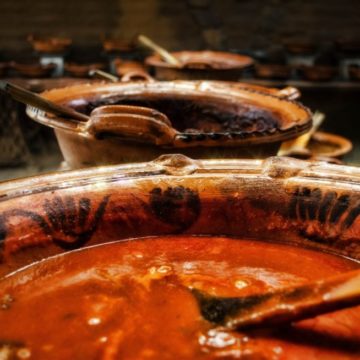 Mole Coloradito Oaxaqueño
This mole translates to "a shade of red," or "on the naughty side," depending on what you're doing in the kitchen. Somewhere between rojo and negro in color, this brown mole shares the base ingredients of whole spices, onions, garlic, seeds, and chocolate and features an awesome secret ingredient for thickening and sweetening: mashed ripe plantain. In Oaxaca, this mild, sweet mole is served with chicken, pork and is commonly used to prepare enchiladas and tamales.
Ingredients
3

chilcostle chiles

trimmed and seeded

3

chilhuacle chiles

trimmed and seeded

2

guajillo chiles

trimmed and seeded

1

ancho chile

trimmed and seeded

1

cinnamon stick

1

clove

1

cup

almonds

peeled, sliced

1

cup

sesame seeds

1/2

cups

raisins

1/2

pieces

bread

sliced

1/2

onions

roasted

2

cloves

garlic

peeled and roasted

1

plantain

fried

3

cups

chicken broth

1

tablespoon

lard

1/2

Mexican chocolate tablets

salt

sesame seeds

for garnish
Instructions
On a

griddle

over medium heat, char chilcostle, chilhuacle, guajillo, and ancho chiles for 2 minutes. Set aside.

In a bowl add chiles and rehydrate with hot water. Let soak for 10 minutes.

In a pot add lard and heat over medium heat. Add mole and cook for 15 minutes. Add chocolate. Season with salt and pepper. Cook over low heat for 20 minutes. Add chicken pieces and cook for 4 minutes.

Serve mole coloradito on a plate with chicken, chunks of pork shoulder, or over enchiladas. Garnish with sesame seeds.