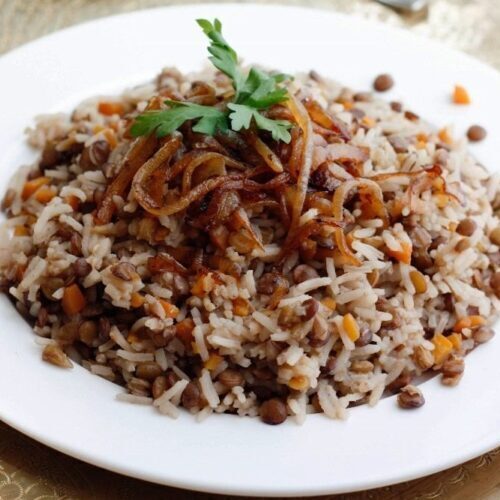 Lentils & Rice - Mujaddara - Palestinian - Arabic
Lentils & rice is a classic Arab combination that goes back to medieval times. I've seen it prepared many ways—from a rice dish with just a bit of lentils to mostly lentils with a touch of rice. As for me, I like to make it half/half, a cup of each. I also add a chopped up carrot. Though non-traditional, the carrot adds color and interest to an otherwise plain-looking dish. Finally, do not skimp on the onion. More than a garnish, the onions flavor the dish in such a way that you'll find yourself and a fellow diner fighting over the last remaining bits of onion. If you love onions, I suggest frying up three onions or even four. Trust me on this.
Ingredients
1

Cup

Lentils

1/3

Cup

Basmati Rice

4

cups

water or broth

salt to taste

1

teaspoon

cumin

1/4

cup

olive oil

2

large onions

sliced into 1/2 inch slivers
Instructions
Saute onions with

olive oil

until golden brown. Reserve 4

Tablespoons of browned onions for garnish.

In a different

saucepan

, place lentils, water and salt and

cook over medium heat for about 45 minutes or until lentils

are tender.

While the lentils are cooking, make rice as directed.

Combine rice, browned onions, lentils, and cumin.

Garnish with the browned onions.
Video